Chadwick Boseman Gets Choked Up While Sharing Story of Two Terminally Ill Young Fans
The actor had been communicating with them all throughout the shooting of 'Black Panther'.
by Raz Robinson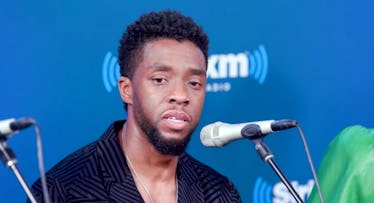 Youtube
Black Panther star Chadwick Boseman couldn't stop himself from getting emotional during a recent interview when he shared the story of Ian and Taylor, two young, terminally in fans who unfortunately died of cancer before Friday's opening day for the highly-anticipated movie. Boseman, who plays T'Challa a.k.a. the titular Black Panther, had been communicating with the pair during the entire filming of the movie.
The 40-year-old actor described the anticipation kids have for the film as "really personal" to him, before going on to discuss the way in which he felt impacted by both Ian and Taylor's excitement.
"What they said to me, and what their parents said is they're trying to hold on until this movie comes," said Boseman."…to a certain degree, it's a humbling experience because you're like 'this can't mean that much to them' You know? But seeing how the world has taken this on, seeing how the movement has taken on a life of its own, I realized that they anticipated something great."
The star went on to reminisce about his own experiences as a kid, waiting for a birthday or getting in line for different video games, movies, or toys: "I did live life waiting for those moments…and when I'd found out they…" Overcome with emotion, Boseman couldn't even finish his sentence, as his castmates attempted to console him. He eventually was able to sum it up by simply saying that "it means a lot."
Despite the sadness surrounding the deaths of Ian and Taylor, Boseman has been publicly thrilled by the joy that kids feel about getting to see the film. After seeing a video of students at Ron Clark Academy dancing on the tables after finding out they'll get to see Black Panther on a school trip, Boseman explained his reaction on The View: "For me, it's one of the reasons I get up in the morning and I do what I do."
This article was originally published on