Big Bird Gets Vaccinated, History Reveals Sesame Street's Long Support of Vaccines
Big Bird has been getting vaccinations since 1972.
by Ethan Freedman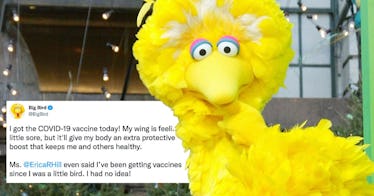 There's a new member of the vaccinated club — everyone's favorite eight-foot-tall avian Muppet, Big Bird. On Saturday, Big Bird tweeted about his new vaccine status, remarking on how it keeps him protected. And, although some reactionaries have accused Big Bird of being a fair-weathered vaccine advocate, the Sesame Street legend has actually been getting various vaccine jabs since 1972.
During "The ABCs of COVID Vaccines" Special produced by Sesame Workshop and CNN, Big Bird was about to head to his shot appointment with his grandmother, Granny Bird. But before he does, he tells Dr. Sanjay Gupta and journalist Erica Hill that he's a little wary of the needles.
Both Gupta and Hill say that they, too, aren't big fans of needles. And they offered Big Bird some advice to overcome some of that anxiety, like singing a song or bringing a stuffed animal from home to keep him company while he gets his shot.
The group also checks in with Rosita, another Sesame Street resident, who had just gotten her shot. She tells her large, feathered neighbor that the shot was over before she knew it. Via his tweet, we can infer that the vaccine went well for Big Bird too, and he can now await his second dose in about three weeks. He was also congratulated on his new, partially immunized status by the President — not an honor everyone received after getting their shots.
The special aired just as the Pfizer-BioNTech vaccination against the coronavirus was approved and recommended in the US for kids aged 5-11. Previously, the vaccine was authorized for anyone over 12, but these littler kids might be feeling a bit more nervous or afraid of getting the shots.
And as the news of this ornithological immunization swept the nation, it stirred up memories of past Sesame Street support for vaccinations. Although Big Bird is canonically always 6-years-old, he's been getting vaccinated since 1972. A Twitter account called "Muppet Wiki" surfaced clips from a 1972 episode of the show where Big Bird gets vaccinated for measles:
Big Bird's vaccination also prompted some backlash from right-wing leaders such as Senator Ted Cruz of Texas, who called it "government propaganda." Getting kids vaccinated can help families and communities prevent serious illness and the spread of the virus.
In addition to getting vaccinated against COVID-19, Big Bird learned that he'd been getting vaccines for other diseases his whole life. According to the CDC's vaccine schedule for young kids, by age 6 he'd already have gotten shots against diseases such as hepatitis B, diphtheria, and rotavirus, in addition that measles vaccine he received in 1972.
While some coronaviruses can infect birds, this specific coronavirus doesn't seem to. But Sars-COV-2 (the virus causing COVID-19) has been found to infect mammals other than humans, including mink, otters, and deer. While Big Bird's vaccination thus requires some suspension of disbelief, Rosita, on the other hand, does appear furry and so is theoretically a mammal — making her vaccination perhaps a little more relevant. It should be noted that there are currently no peer-reviewed studies on the efficacy of this vaccine in monsters, or hand-operated creatures in general.
But in people, the CDC now recommends that everyone aged 5 and up get vaccinated against COVID-19. You can book an appointment for your child right now at a variety of sites, including pharmacies, school clinics, and your pediatrician's office.