Biden Admin Offers Student Debt Relief to More Than A Million More Borrowers
Everything you need to know about the Biden administration's new student debt relief policy.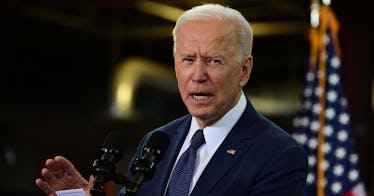 Getty
The Biden administration has thus far refused to pursue the kind of wholesale federal student debt cancellation that could transform the lives of millions of Americans. However, it has suspended the collection of many federal student loans through September, a pandemic benefit it just extended to more than a million more borrowers.
Here's what you need to know about this latest development, and if it applies to you or your family.
Who is affected by Biden's new student debt relief policy?
The new policy will help around 1.14 million borrowers who defaulted on student loans taken out under the Federal Family Education Loan Program. The FFEL program was a system of private student loans subsidized by the federal government that existed from 1965 to 2010. Some of those loans are still held by private entities while some were purchased by the federal government during the 2008 financial crisis.
These folks had not been covered by the student loan collection relief measures taken during the Trump or Biden administrations.
According to the Department of Education, the IRS was poised to seize the tax returns of more than 800,000 of those borrowers to repay their defaulted loans. Now they won't have to.
What about borrowers who didn't default?
The feds also set the interest rate to zero for borrowers whose loans are owned by private lenders and not in default. A senior official at the Department of Education told the Wall Street Journal that the agency is "still looking at what our options are there" for pausing collection on these loans.
Is the new policy retroactive?
This policy is retroactive to March 13, 2020, when then-President Trump declared the COVID-19 pandemic a national emergency. That means that loans that have gone into default since that date will be returned to good standing and existing balances will be adjusted to reflect a zero percent interest rate.
Some borrowers have already had their wages garnished and/or their tax returns seized, and the government said it would work to return those funds to them in light of this new policy.