Biden Ponders Cancelling Up to $50K In Student Loan Debt
Here's what he needs to make a decision.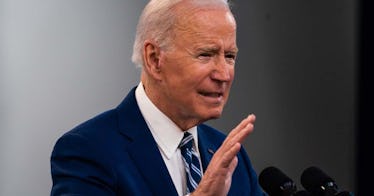 Getty
White House Chief of Staff Ron Klain revealed in an interview on Thursday that President Joe Biden is exploring ways to cancel student debt at levels higher than previously endorsed.
In response to a question that mentioned, accurately, that many Democrats already believe that the president can cancel up to $50,000 in student debt, Klain revealed that President Biden has asked Education Secretary Miguel Cardona to look into the matter and issue a memo on the president's legal authority to do so.
"He hasn't made a decision on that either way. In fact, he hasn't yet gotten the memos that he needs to start to focus on that decision," Klain said. The president's chief advisor also stated that he expected the president to have that memo in "the next few weeks."
What we're talking about here — and what President Biden is considering, reportedly — is the potential for large-scale forgiveness of billions of dollars in loans, something dramatically different than the student debt relief the Biden administration has issued thus far.
What Has Biden Done, and What Could He Do, About Student Debt?
Biden has already had the debt of 72,000 borrowers defrauded by for-profit colleges erased to the tune of $1 billion in canceled loans. He's also extended the suspension of payments during the pandemic through September and included a million more borrowers than did the Trump administration in its similar suspension.
Leading the charge of those who want the president to do more is Progressive Caucus Chair Rep. Pramila Jayapal. She has been publicly pressuring Biden to cancel $50,000 in student debt, a policy that also has the support of Senate Majority Leader Chuck Schumer.
They point to the Higher Education Act of 1965, which gives the Education Secretary the power "to modify, compromise, waive, or release any right, title, claim, lien, or demand, however acquired, including any equity or any right of redemption."
That language seems pretty clear-cut, but opponents say that the larger context doesn't give the secretary that power. A memo written in the last days of the Trump administration lays out these arguments: that Congress controls the power of the purse, that the law would be more explicit about this power if it was meant to grant it, and that because Congress has empowered the secretary to cancel certain loans in the past it would need to do so now as well.
It's this legal question that Cardona's memo seeks to clarify. If he comes down on the side of Jayapal and Schumer, Biden will likely direct him to cancel at least some student debt without Congressional input. If he says that it's not within his power to do so, it will likely only make the voices demanding student debt cancellation, who've already advanced the issue by leaps and bounds in a short amount of time, even louder.