Joe Biden Pushes Senate to Pass Gun Control — Will it Work?
Even after two mass shootings in one week, he's facing an uphill battle.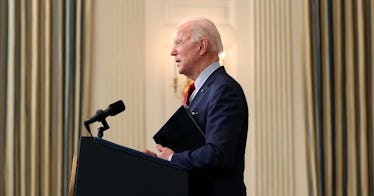 Getty
A lack of political will and political courage has kept the United States from effectively addressing its massive and tragic gun violence problem, one unique in the developed world. But in the wake of two mass shootings less than a week apart in Atlanta and Boulder, we're about to find out if Joe Biden in the White House and Democrats in control of both houses of Congress is enough to break the impasse.
Can Joe Biden Actually Enact Gun Control?
Following the mass shooting in Boulder, Colorado, Biden promptly condemned the violence and called on the Senate to approve two bills passed by the House of Representatives on March 11—before the shootings—that would broaden background checks for gun buyers. He also called for an assault weapons ban.
"I don't need to wait another minute—let alone an hour—to take common-sense steps that will save the lives in the future, and I urge my colleagues in the House and Senate to act," the president said on Tuesday.
The Filibuster Is Standing In The Way
Unfortunately for Biden, the same obstacles that stand in the way of passing any legislation, particularly the counter-majoritarian nature of the Senate and its filibuster rules, also stand in the way of passing gun control legislation.
That didn't stop Senate Majority Leader Chuck Schumer from talking a big talk on Tuesday: "This Senate will be different. This Senate is going to debate and address the epidemic of gun violence in this country." But debating, and addressing, aren't the same thing as passing gun control laws.
That's because Schumer and company have yet to convince Joe Manchin, the 50th vote in the caucus, to vote for the bills passed by the House. And even if they do, they'll have to get rid of the filibuster to pass the bill, as attracting the ten GOP votes needed for cloture is not going to happen on gun control.
Could Biden Use Executive Action?
In the absence of a coherent legislative strategy, White House press secretary Jen Psaki said that Biden is "considering a range" of executive actions to try to stop gun violence without having to go through Congress. Among the options he's likely weighing are giving money to cities fighting gun violence, regulating the "ghost gun" (i.e. partially assembled and therefore less regulated) gun market, and improving background checks.
"We know that gun safety is a policy priority for the president and his administration, but there are executive actions that could be taken today," said Shannon Watts, founder of gun safety group Moms Demand Action. The issue would then become how the Supreme Court, which has a conservative majority sympathetic to gun advocates, would rule on the inevitable legal challenge to any executive actions Biden might take.