Biden Admin Could Add Inclusive Gender Option To Federal Documents
It's the respectful and accurate thing to do.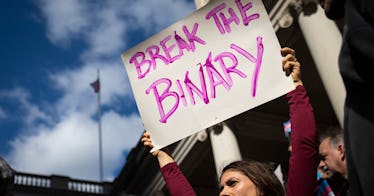 GETTY
The Biden administration may do something huge — even if it is actually kind of a small thing — for people who are nonbinary and intersex and have never been appropriately served by federal forms. The small move is long overdue — and could make history.
Indeed, LGBTQ advocates have been in talks with members of the Biden administration about how it will fulfill one of his campaign promises: adding an "X" option next to "M" and "F" on all federal documents. The third option, "X" would allow nonbinary and intersex people to have documents that accurately reflect their identities, and potentially avoid the harassment that can happen when they use their IDs to travel, apply for jobs, or enter buildings. It is a small step in giving nonbinary and intersex people the institutional respect they deserve — but given that less than half of states have the "X" gender marker on their own state forms, it would have a massive impact on documents that help people move through space freely and safely.
"President Biden remains committed to advancing state and federal efforts that allow transgender and non-binary Americans to update their identification documents to accurately reflect their gender identity, especially as transgender and non-binary people continue to face harassment or are denied access to services because their identifications documents don't affirm their identity," White House spokesperson Matt Hill said in a statement to The 19th, which first reported the news.
In addition to providing the option, civil rights groups are calling on the federal government to follow the leads of 20 states and Washington, DC, in allowing self-attestation, which allows trans, nonbinary, and intersex people to update their gender markers without any kind of medical documentation — a needless barrier that makes it harder for people to get the documentation they need.
Early in his presidency, Biden has already issued executive orders to repeal the ban on transgender military members and make housing discrimination based on sexual orientation and gender identity illegal. An "X" gender marker would be another important step forward.
As ACLU strategist Arli Christian put it, "Access to an ID that reflects who you are is paramount to the rights of trans people, and so passing this kind of executive order early in the administration says from the federal government, 'We see you, we respect you for exactly who you are.'"
This article was originally published on