Biden Desperate To Fix Holiday Supply Chain, But He's Got Obstacles
Some experts think issues in the global supply chain will continue at least through next year.
by Ethan Freedman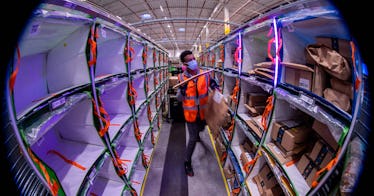 GETTY
Clogs in the global pipeline of goods have challenged consumers on and off since the pandemic spread worldwide in March 2020. Now, some of those issues threaten to endure long enough to upend holiday shopping at the end of the year. In response, President Biden is taking some steps to keep supply chains moving, but these measures may not be enough to fully fix the problem, reports Politico.
The Port of Los Angeles will begin operating 24/7, in part to address the massive backlog of ships waiting to dock there and in Long Beach, California, Politico reports. In addition, the publication notes, some retail and delivery companies, along with their associated labor unions, will ramp up shifts of drivers hauling shipments out of port.
Yet these measures will only address part of the supply chain issue and may not solve the problem, according to The New York Times. Much of this is due to the pandemic, the paper notes, as factories have closed around the world, but also due to bottlenecks in railroads, ports and trucking — and the government can only so much.
Experts expect that these worries will continue well into 2022 or later, the Times says, pushing well past this year's holiday retail season. Meaning — buying your holiday gifts be a little trickier this year.
The COVID-19 pandemic has done a number on the global trade of goods, as factories and workplaces have closed or faced virus-related delays. But the virus is far from the only issue, reports The Washington Post. Everything from communication issues, failed industrial organization and cost-cutting have created a global system that failed against the stress test of the pandemic, the paper notes.
And even if the pandemic were to taper down and return the world to a pre-2019 movement of people and goods, global supply chain issues could remain. Climate change will likely keep increasing pressure on the global market of resources, reports CNBC, as storms, droughts, wildfires and other natural disasters impede production around the world. According to a new report from the First Street Foundation, flooding alone threatens millions of miles of roads and 25% of infrastructure such as airports and hospitals in the US — with those risks projected to increase in the coming decades.
Families concerned about getting their gifts in time for their holidays this year have a few options. For one, get that shopping done early — more time means more opportunity to get what you're looking for. You can also focus on smaller stores and locally made goods, which might be less likely to fall prey to global pipeline issues. And for more ideas, check out Fatherly's guide on how to avoid supply chain pain this year.