Biden's COVID-19 Stimulus Package Is Law, And Checks Soon on the Way
Americans could start to receive their stimulus payments this weekend.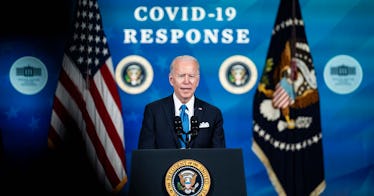 Getty
President Joe Biden just signed the American Rescue Plan, the $1.9 trillion COVID-19 relief bill passed by the Senate last weekend, and the House on Wednesday, at around 2 p.m. EST on Thursday, March 11th, a day earlier than scheduled.
Though he was originally scheduled to sign the bill on Friday, March 12th, the signing ceremony was an opportunity for Biden to celebrate a huge political victory, ahead of a prime-time address on Thursday night where Biden will discuss a second bill to keep building on beating the virus and economic recovery from the pandemic.
For those who are eligible, the earlier signing bodes well for earlier distribution of the third round of economic stimulus, the much-discussed $1,400 checks. Here's what you need to know.
When can the IRS start sending out the stimulus payments?
How do I know if I'm eligible for a stimulus payment and how much will I receive?
What else is in the bill?
A much more generous reworked child tax credit
An extension of $300 weekly unemployment benefits through September
$350 billion for state and local government aid, some of which is earmarked for capital projects
$130 billion to help reopen schools and colleges
$30 billion in assistance for renters and landlords
$50 billion for small business assistance
$160 billion for vaccine development and distribution
This article was originally published on