Biden Administration Will Give $39 Billion to the Childcare Industry
The move will help American families dramatically. Here's what to know.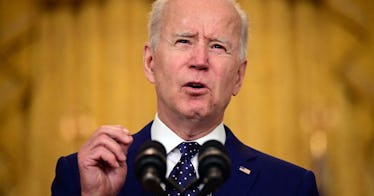 Getty
Forced to deal with the triple whammy of plummeting enrollment, lack of governmental support, and the sky-high cost of constantly cleaning, sanitizing, and otherwise upgrading facilities, thousands of daycare centers closed when the COVID-19 pandemic hit. So the Biden administration's release of nearly $40 billion to help the childcare industry is welcome news.
USA Today reports that pandemic anxiety, lost income, and remote work all contributed to parents pulling their kids out of daycare. Eighty-one percent of centers that stayed open lost enrollment (and therefore income) according to a survey of more than 6,000 providers. The industry as a whole lost 166,900 people between December 2019 and December 2020 according to the Bureau of Labor Statistics. That amounts to 16 percent of the pre-pandemic childcare workforce.
But with schools and offices reopening across an increasingly vaccinated country, demand for childcare is coming back. The Biden administration is releasing $39 billion total between two different funds.
$24 billion in stabilization funding that will go directly to providers to help with the costs of reopening, from paying rent to rehiring workers to upgrading facilities
$15 billion in development funding that will go to an expansion of a federal program that helps low-income families pay for child care, increasing the (criminally low) wages of childcare workers, and meeting other state-specific care needs
The money was allocated to childcare in the American Rescue Plan, the $1.9 trillion COVID-19 relief package that Democrats passed and Biden signed into law last month. It will be distributed on a state-by-state basis, with American territories and Native American tribes also receiving funds.
The hope is that getting childcare centers up and running again will cause a domino effect, freeing parents (a disproportionate number of whom are mothers) to return to the workforce and contribute to the larger economic recovery. It will also help the thousands of child care workers return to work safely, as well.
But while $39 billion is a good start, it is but a down payment. Biden will need to do a lot more—hopefully with part two of his infrastructure proposal—if he wants to turn the American childcare system into something that supports every child, parent, and caregiver who is part of it.