Biden's Next Spending Package Would Transform the Lives of American Families
Paid family leave, an extension of the child tax credit, and universal pre-K are among the provisions in the American Families Act.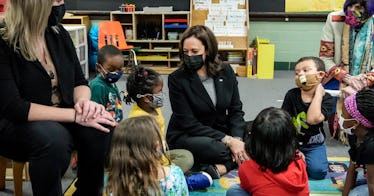 GETTY
The Biden administration's next infrastructure package is coming into focus, and it looks like a doozy. The proposal will likely include around $1.8 trillion in new spending and tax credits, according to the Washington Post. The promised spending on childcare absent from Biden's first infrastructure bill is there, but that's not the only provision families will care about.
Here's what families need to know about the American Families Plan, the second part of the Biden administration's Build Back Better agenda that's due to be released ahead of his address to a joint session of Congress on Wednesday.
What programs would the American Families Plan fund if passed?
$225 billion for childcare, $225 billion for paid family and medical leave, and $200 billion for federal universal pre-K.Post$300 billion in education fundingFirst Lady Jill Bidenmore money for nutritional assistance programs. $200 billion for Affordable Care Act subsidies
What tax credits are in the American Families Plan?
Post
What probably won't make it into the bill?
How will the American Families Plan be paid for?
tax increases on rich people and wealthy investors
This article was originally published on