Here Are the 18 Best Jokes About the College Admissions Scam
A scandal this ridiculous gets the comedy treatment it deserves.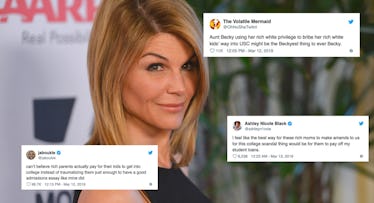 The college admissions scandal that broke last week is the gift that keeps on giving. There's the schadenfreude of seeing rich and powerful people finally get their richly deserved comeuppance for gaming the system, the genuine conversation that's starting about how fucked up the college admissions process is even without crimes, and, of course, plenty of humor.
Because as grotesque as the story is, there's no shortage of undeniably funny stuff about it, from the terrible Photoshop jobs to failsons subsequently embarrassing themselves to an amazing half a trillion dollar lawsuit. There's plenty of inspiration for jokes from comedians professional and amateur. Here are our favorites.
Trauma Works As Well As Bribes
An Alternate Punishment
Becky Becomes an Adjective and a Verb
(Uncomfortable Smile)
Think of the Feds
A Rough Draft of the TV Movie
The Fargo Reunion Is Going to Be Awkward
If Only
It's the Internet, So Dogs Got Involved
Hermoine Didn't Bribe Her Way In
Art$ and Craft$
Chrissy Teigen Has a Master's in Photoshop
The Scandal Will Be Memeified
Desperate Housewives Was a Documentary All Along
Mystery Solved
We'd Watch This Movie
And Finally, the Habsburgs Catch a Break