Suddenly, Everyone Loves Ben Affleck's Batman Again — But Why?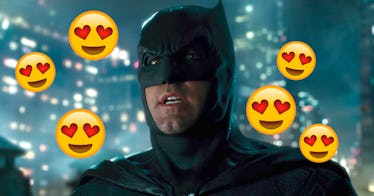 DC
Ben Affleck didn't get a ton of respect for his portrayal of Batman in Batman v. Superman: Dawn of Justice, Justice League, and (in a cameo) Suicide Squad. It's hard to pinpoint the exact reason why. It could be because the Dark Knight trilogy was such a tough act to follow. Perhaps it was how Joss Whedon screwed up Justice League. Or maybe it was because the MCU sucked up too much of the superhero movie oxygen at the time.
But even though Affleck dropped out of The Batman, which he was slated to write and star in, and left the role to Robert Pattinson, he has his supporters. Some of them decided that today is their day to celebrate his performance as the Caped Crusader on social media with the hashtag #ThanksBatfleck.
A quick survey of the associated tweets reveals that the #Batfleck set likes his portrayal for a lot of different reasons. One highlighted his portrayal of PTSD in a particularly intense scene with Henry Cavill that goes back to Batman and Superman's tragic origin stories.
Another celebrated what they saw as the fidelity of the Affleck Batman films to the comic books.
One fan even shared a behind-the-scenes video of Affleck doing push-ups on set, in costume, joking around, a reflection of both his sense of humor and physical commitment to the role.
Of course, you can't talk about Ben Affleck's work as Batman without talking about the Snyder cut. It's an interesting situation because he's not planning on playing the part again but there's still this highly anticipated film out there that people are more excited to see than most movies they haven't already watched a version of. Ben's support for releasing the Snyder cut is another reason to thank him.
Luckily for these folks, the Snyder Cut is on its way to HBO Max next year. In the meantime, they'll be left to deal with the haters in the comments. Such is the life of a Batfleck fan.
This article was originally published on