BBC Dad Returns to the Airwaves to Talk Coronavirus, But Everyone Just Wanted to See His Kids Again
It's proof that not all sudden fame lasts 15 minutes.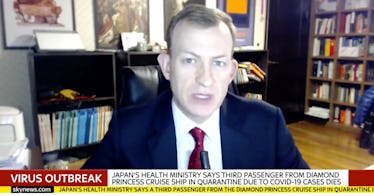 Robert Kelly is an accomplished man. He's an associate professor of international relations at Pusan National University in South Korea whose written for Foreign Affairs and the Washington Post and appeared on television networks around the world.
But you don't know Robert Kelly because he's an expert; you know Robert Kelly because he's a meme.
Outside of foreign policy circles (and probably within them too), Kelly is known as either as "BBC Dad" or his less formal moniker, "guy whose kids wandered into the background of his television appearance whom he struggled to ignore until his wife snatched them away." See? Now you know who he is.
Kelly was back on the airwaves recently, specifically British network Sky News, talking about how South Korea is handling the coronavirus outbreak. He spoke from his home office in Pusan, sitting in the same place where he initially earned fame. This time he didn't have much of a choice: he can't go to work because of the outbreak.
And while most internet sensations quickly fade into nothing, Kelly's appearance has staying power. Legions of Twitter users who saw the video didn't post comments about his sober analysis of a global health crisis. Nope, they just posted jokes.
The most popular reply was this animated gif. The work of @paperbeatstweet has garnered nearly 30,000 retweets, or 5,000 more than the video itself.
Just behind with over 16,000 likes is another gif of a kid taped to the back of a door.
Beyond gifs of the original incident, the most popular repeated post was probably this still from The Mandalorian showing Warner Herzog uttering a line that was very appropriate for the situation.
We scrolled through lots of the replies and found only one responding to what Professor Kelly said. The rest proved that people were watching the clip just like this guy and not really listening to what was being said.
Alas, the kids never showed up, disappointing their fans.
To his credit, Kelly sems to have taken his fame in stride. He appeared with his kids on a Korean reality TV show and has even adopted the BBC Dad nickname with gusto. See him use it here in his pinned tweet, along with some adorable photos of his gatecrashing kids and wife who heroically (and hilariously) snatched them back.