Robert Pattinson's Batman Will Fight the Joker- But Which Joker?
The Crown Prince of Crime will appear in the second and third films of Matt Reeves's trilogy.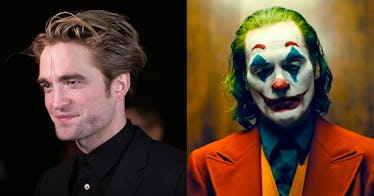 Getty / Warner Bros. Pictures
Batman movies hear you like the Joker, so, at some point, those Batman movies are gonna give you another new Joker. Robert Pattinson will face off against the Penguin, Catwoman, the Riddler, and Carmine Falcone in his first turn as Batman, but the story won't end there. Pattinson and director Matt Reeves are making a trilogy, after all, which means there is plenty of time to bring in other characters from Gotham City's deep bench of villains.
Arguably the most popular of those bad guys is the Joker, the Crown Prince of Crime himself. And on that front, there is some good news. The Joker will appear in the second and third films of Reeves's trilogy, The Direct reports. But before you ask no, Joaquin Phoenix will not be reprising the role that won him an Oscar.
The role has yet to be cast, but the same story confirms that a new actor will play the Joker. That might be disappointing to some who would've liked to see Phoenix and Pattinson facing off, but it seems like a good creative decision. Here's why.
DC has struggled to launch its own juggernaut of a cinematic universe the way Marvel did, but the relative disconnect between, say, Birds of Prey and Joker means that the creative teams behind those films can pursue their own vision without having to worry about preserving continuity across a million other titles. If this strategy works, the body of DC movies will be more varied and more interesting than the films of the MCU, which can have a homogenous feeling.
But let's not lose sight of the real news here: Pattinson is going to battle the Joker. It won't be for a while, of course, as the coronavirus pushed the release date of The Batman back already, a delay that will presumably have a domino effect on the sequels, but it's going to happen. Let the speculation about who will take on the role begin!
This article was originally published on