Barbados Wants You to Work Remotely From the Beach
Doesn't living on an island sound really good right now?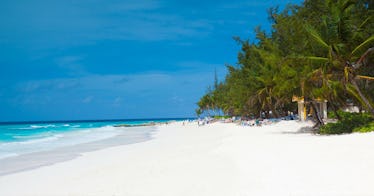 The novelty of working from home has long since worn off for those of us fortunate to be able to do so. Sensing an opportunity, Barbados is trying to lure disaffected remote workers to its shores, because wouldn't you rather ride out the pandemic on the beach?
The crux of the change is the Barbados Welcome Stamp, a new passport endorsement that would allow tourists to stay in Barbados for 12 months at a time. Prime Minister Mia Amor Mottley explained the plan in an appearance on British television.
"COVID-19 has presented tremendous challenges to those countries that are tourism and travel dependent and we have reached a position where we recognize that part of the challenge relates to short term travel," she said, outlining what's in it for her country before getting to what's in it for remote workers.
"The sunshine is powerful. The seawater is powerful. They're both therapeutic in ways that are hard to explain," Mottley said. She also celebrated practicalities necessary for working remotely, namely the presence of two telecom companies on the island and workspaces that would be made available for those interested.
Beyond the obvious appeal of island life to workers tired of being cooped up at home, the biggest selling point for the program is the stability it promises.
"Rather than coming for the usual week, or three weeks or a month, why not plan out your business, given the fact that all we have gotten from COVID-19 is uncertainty. So, we can give you certainty for the next 12 months."
The Barbados Welcome Stamp will launch on August 1 as commercial flights to the island on JetBlue and American Airlines resume. And while it's certainly not for everyone, it's hard to argue that the chance to live and work on or near the beach in a stable, modern country will certainly appeal to plenty of workers eager for a change of scenery.