Great Scott! Netflix Censored 'Back to the Future II'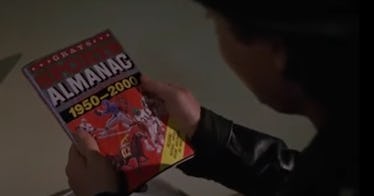 Universal via YouTube
A controversial edit to the version of Back to the Future Part II on Netflix has been reversed after the co-writer of the film heard from a fan upset by the alteration.
The cut in question came at the point when Marty McFly thinks he's found the crucial copy of the 1950-2000 sports almanac. His moment of triumph quickly turns to distress after he finds that he's actually holding an issue of Oh La La magazine that Biff hid in the dust cover. In the version on Netflix until recently, the cover of the magazine, which isn't risqué by any modern standard, was cut out.
Bob Gale, who co-wrote the trilogy with Robert Zemeckis, heard about the edit from what he called "an eagle-eyed fan" and had the studio fix it, as he explained to the Hollywood Reporter.
"Apparently, this was a foreign version which neither director Robert Zemeckis nor I even knew existed, for some country that had a problem with the Oh La La magazine cover," Gale explained. It was this version that Universal gave to Netflix.
"I asked that the studio destroy this version," he continued. "FYI, Netflix does not edit films — they only run the versions that are supplied to them. So they're blameless. You can direct your ire at Universal, but I think they will be a lot more careful in the future — and with 'the future.'"
Gale confirmed that the version of Back to the Future Part II now streaming is "the uncensored, unedited, original version," something that's also true of its predecessor and successor. This controversy is as good a reason as any to revisit the franchise which remains an absolute delight 35 years after the release of the first installment.
This article was originally published on