This Artist Hilariously Reimagined Every Disney Princess as Baby Yoda
All right, Disney+, your move!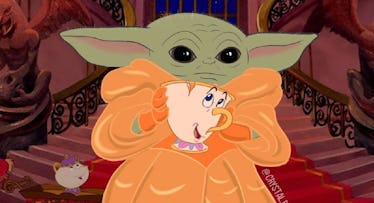 Crystal Ro/Buzzfeed
Do you remember mere months ago when the only Yoda we knew was Yoda Yoda, the Jedi master from the Skywalker saga? We still love him, of course, but it's hard to imagine life—or at least life on the internet—without The Child or, as he's widely known, Baby Yoda.
The breakout star of The Mandalorian is one of the most memeable characters out there, so it was only a matter of time before he (she? it?) followed in the grand tradition of realistic Disney princesses and R-rated versions of Disney classics in a Mandalorian-Disney animated film mashup for the ages.
The pop culture genius behind this effort is Crystal Ro, a Buzzfeed editor and aritst who you might remember as the woman who once replaced every Disney prince with Keanu Reeves. The Force is clearly strong with this one.
She inserted Baby Yoda into nine different frames from various Disney classics and generously shared them with the masses on Instagram. Because if a meme gets created but not posted to social media, then it's not really a meme at all.
Aurora from Sleeping Beauty
Mulan from Mulan
Pocahontas from Pocahontas
Tiana from The Princess and the Frog
Snow White from Snow White and the Seven Dwarves
Ariel from The Little Mermaid
Jasmine from Aladdin
Cinderella from Cinderella
Belle from Beauty and the Beast
This last one is particularly brilliant because it's a nod to the most well-known of the Baby Yoda memes, itself an homage to the classic Kermit drinking tea meme. What we're trying to say is that it's meme-ception. What a time to be alive.
This article was originally published on