'Endgame' Writer Confirms Cap and Bucky Bromance Is the Heart of Marvel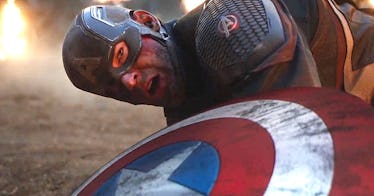 Credit: Marvel Studios
As the pinnacle of a decade-plus of storytelling, Avengers: Endgame sews up a lot of loose ends. But with so many characters and so many storylines from the 21 films that came before it, even three-plus hours isn't enough to answer every question fans have, questions like "Is true love real?"
Let us explain. One of the things fans have been wondering about since the end credits rolled on Endgame is why Cap designated Falcon as his successor and not Bucky, his best friend. An exchange between director Joe Russo and screenwriter Stephen McFeely — who also co-wrote the three Captain America films — on the commentary track reveals the answer.
The conversation in question comes as Cap is saying goodbye on his way back to return the Infinity Stones to their natural places in the timeline. Bucky says "I'm gonna miss you," which is a strange thing to say if, as the rest of the Avengers believe, Cap will reappear in a matter of seconds.
Russo asks McFeely if Bucky knows something is up. "Yeah I think it's clear from Sebastian's performance here that he's been clued into Steve's decision," he replies. "Why would he say 'I'm gonna miss you' if it's gonna be five seconds?"
Now Cap, of course, does reappear seconds later, but as an old man, having lived a long life in his own era with Peggy Carter. Bucky spots him, which does come as a surprise, but Russo and McFeely make it clear that Cap tipped off his friend.
What does this have to do with true love? Well there's obviously Cap's decision to live his life with Peggy, but this exchange confirms that a negative reading of the situation — that Cap didn't tell his best friend they'd never see each other again and chose someone else to carry on his legacy — is flatly wrong.
Fate might have pulled them apart, but when Bucky spots Old Man Cap he's not angry. Their bromance is so strong that even living on different parts of the space-time continuum can damage their bond. If that's not true love, what is?