This Retro Remake of the 'Avengers: Endgame' Poster is Hardcore Rad
It's a comic book poster worthy of the biggest comic book movie ever.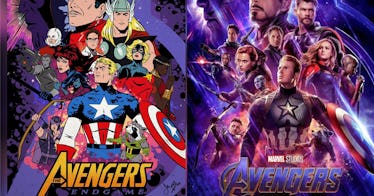 John Black/Instagram
The Marvel Studios production logo that rolls before every MCU movie has evolved over the years, but it's always centered on an image of comic book pages flipping, a reminder that the live-action movie you're about to watch originated in decades of comic book art and storytelling.
A new project from John Black, a Charleston-based artist whose name sounds like a superhero alias, takes this connection to the next level. Black's Instagram page betrays his interest in original comic book art (the Jack Torrance is particularly cool). So for his latest post, he decided to create an ink-and-color version of the Avengers: Endgame poster. It's exceedingly cool.
Gone are the Hollywood superstars, replaced by comic book-style versions of the characters they've reintroduced to a new generation. It's a cool idea because these aesthetics are so different: the sleek, as lifelike as possible modern movies juxtaposed with the hyper-stylized look of the original characters.
It also works because it feels like an inversion of what it was like to see, for the first time, Robert Downey, Jr. as Iron Man or Chris Evans as Captain America. The actors have since replaced the comics as the default image of those characters in the culture, so it's novel to go the opposite way and reintroduce those visuals.
We hope that, like the flipping pages before the movie, Black's poster, and the outside-the-MCU Into the Spider-Verse, there are more varied aesthetic interpretations of these universally known characters in the future.
This article was originally published on