This Teen Boy's Powerful Poem About White Privilege Went Viral
This kid is wise beyond his years.
by Amanda Tarlton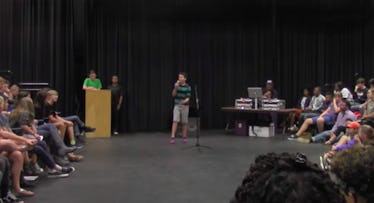 "Dear everyone who isn't a middle or upper-class white boy, I'm sorry. I have started life on the top of the ladder while you were born on the first rung." Those haunting words are from the winning slam poem performed during a contest at Atlanta's Paideia School in May 2016. The author? A then-14-year-old Royce Mann. The subject? The touchy topic of white privilege. The result? A video that went viral, and a message that touched the lives of millions.
Over 14 million, to be exact and that's just counting Facebook views. In his poem, the Atlanta teen describes what it was like to grow up white and male—and how lucky he is because of it.
At one point, Mann recites, "I love it because I can worry about what kind of food is on my plate instead of whether or not there will be food on my plate. I love it because when I see a police officer I see someone who is on my side."
But Mann does more than just acknowledge his white privilege, too. He also calls on other white men to stand up and come together to fight against racial inequality, urging them to "act like a woman, to be strong and to make a difference."
When interviewed by CNN, Mann revealed the purpose of his poetry: "I'm trying to do this for other kids out there who have things to say but people aren't willing to listen."
We're not sure whether he's going to be the next Eminem or the next President—but either way, this 8th grader has a heck of a future ahead of him. Just read his closing lines: "Everyone should have the privileges I have. In fact, they should be rights instead. Everyone's story should be written, so all they have to do is get it to read. Enough said."
This article was originally published on