This Artist's Reimagining of Popular Cartoons With Black Characters Is Incredible
Handy is hoping to change the way the kids growing up today look at black characters in media.
by Raz Robinson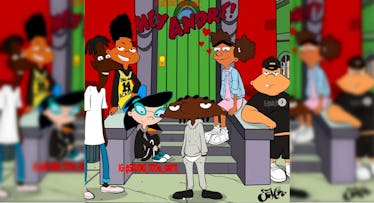 @studio_total_onyx_ Instagram
Whether it's in cartoons or superhero movies, it's no secret that black people are grossly underrepresented in virtually every form of media. Philadelphia based comic book artist and children's book illustrator Tyron Handy hopes to change that with his now viral reimaginings of popular cartoon characters as black.
Handy has actually been posting his illustrations to Instagram for about two years now. In that time he's kept busy and done black renditions of classic cartoons like Rugrats, Hey Arnold!, and The Simpsons. Handy told BuzzFeed that the whole project is about providing black kids today with the kinds of imagery that he wishes was available to him as a kid.
"There weren't a lot of cartoons that I felt represented me much growing up — most black characters in cartoons and tv shows were stereotypical side characters and the best friend of the white main character," Handy said. "Black kids need to be able to see more representations of themselves in media."
Another amazing thing about Handy's illustrations is that he never sensationalizes his characters simply because they're black. As he pointed out, most illustrators who try and do what he does will simply change the skin color and adorn their characters with jewelry and expensive clothes. Handy, on the other hand, prefers that his drawings "look like they could be parallel versions of the characters."
So far, Handy has amassed a little over 20,000 followers on Instagram. He told BuzzFeed that while he wanted the project to go viral, he didn't anticipate that people would get into it so quickly. Right now, he hopes that his huge boost in visibility will ultimately give him the means to start his own animation studio where he can "create more cartoons with black lead characters that will better represent the black experience."
This article was originally published on