Artist Reimagines Iconic Disney Scenes with a Hilariously Relatable Twist
Who says princesses can't ugly cry?
by Catherine Santino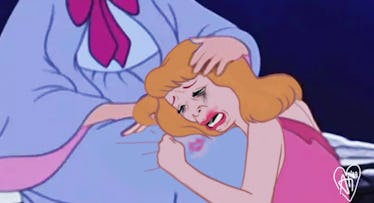 Instagram / andhikamuksin
Disney movies aren't exactly the most realistic portrayal of life, but that's also kind of the entire point. They serve as an escape, a fantasy, and a place for our imaginations to run wild. However, it's always entertaining to see the characters we know and love brought into real life. Indonesian artist Andhika Muksin has a knack for that. The illustrator is known for his hilariously relatable tweaks on Disney characters, and his latest collection is making the internet cry-laugh.
Think about it: if Pocahontas were to stand in the eye of a windstorm, her hair would not blow over her face in one perfect swoop. If Cinderella wept on her Fairy Godmother's lap, there's no way her mascara would stay in tact. Muksin's work brings these sorts of realities to life, and the result is just plain incredible.
Check them out for yourself:
Muksin's followers are loving the almost too-real images, like this one of Cinderella. "My favorite thing about this is the hint of foundation left on the gown," one user commented.
Let's just admit that we all look like this when we wake up from an accidental nap at 4pm:
Love handles and unflattering angles? Yep, they're just a part of life:
In a 2017 interview with Buzzfeed, Muksin said that like many of us, he grew up watching Disney films. As he got older, he began to see the characters in a new light. "Then ideas started popping in my head," he told the publication. "Like Aurora is such a graceful and reserved character, but I bet she'd lose it a bit at Coachella."
Honestly, she probably would.
This article was originally published on