Arsenic, Lead, and Other Metals Found in Popular Fruit Juices
Everything you need to know.
by Amanda Tarlton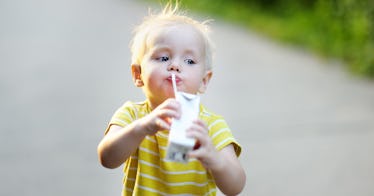 Consumer Reports is warning people about heavy metals in fruit juice after a recent study found that some of the most popular beverage brands contained high levels of arsenic, lead, and other dangerous substances.
The company tested 45 fruit juices from some of the most popular brands (including Capri Sun, Juicy Juice, Mott's, and Welch's) for cadmium, lead, mercury, and inorganic arsenic. The sampling, which was pulled from different parts of the country, analyzed four flavors: apple, pear, grape, and blends.
While every juice sampled had "measurable" levels of the metals, 21 of them contained "elevated" levels. However, CR notes that only seven of those are actually harmful to a child who drinks at least four ounces of the juice a day (five posed a risk to adults who drink the same amount).
The study also found that grape juice and juice blends had the highest average levels of heavy metals and that whether a juice was organic or not didn't make a difference in how much metal it contained.
CR, who refused to call out any brands by name, said they contacted each of the brands about the issue. Most of them reassured the company that not only do they follow government regulations, but that some of the metals occur naturally in foods like juice (soil can contain the substances).
Based on their findings, CR is urging the FDA to impose stricter controls regarding the presence of dangerous metals in juice. The FDA has responded, telling CR that they "place a high priority on reducing exposure among infants and children, as the very young are more susceptible to their potential adverse health effects."
In the meantime, experts recommend that parents limit how much juice their kids consume. The American Academy of Pediatrics advises the following maximum amounts per day: "1- to 3-year-olds, 4 ounces; 4- to 6-year-olds, 6 ounces; 7 years and older, 8 ounces."
For a full report of the findings, including all of the brands that were tested, click here.