Dust Off That Broken iPhone. Apple's Finally Letting You Fix It Yourself
Kid broke your iPad screen again? Don't worry!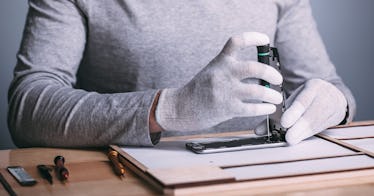 Long one of the more notorious enemies of the right-to-repair movement, a consumer- and environmentally-focused effort to make it easy for people to fix their stuff, Apple is finally, officially making it possible for non-professionals to fix their own Apple gear.
Self Service Repair, according to a release from Cupertino, will be available in early 2022 in the United States before expanding to other countries through the rest of the year. It's a big deal even though advocates are far from satisfied.
Self Service Repair will allow customers to purchase their own genuine Apple parts and tools. It will initially offer more than 200 items for the most commonly serviced modules (i.e. display, battery, and camera) in iPhones 12 and 13, with additional support for Mac computers with Apple's own M1 chips coming later.
The program will be implemented through the new Apple Self Service Repair Online Store. There, people can download manuals to identify the repair and the parts they'll need, order the relevant parts and tools, and even send back their used parts for recycling in exchange for credit toward their purchase.
Throughout the release, Apple is adamant that DIY repairs are not for everyone. It says that only "customers who are comfortable with completing their own repairs" should attempt to fix their devices and that "the vast majority of customers" should visit a professional provider.
Per Gizmodo, the new program is something of an about-face for Apple. the company has a history of imposing "considerable and devious restrictions" on the independent repair shops it partners with, including onerous audits and painful fines for transgressions like using non-sanctioned parts and tools.
And while the new program is certainly a positive development, it falls short of what right-to-repair advocates would like to see the company do. iFixit, a longtime hub of guerilla Apple repairs, was quick to clarify that the program "isn't the open-source repair revolution we've sought" because of the restrictions that are still in place.
For instance, Apple still requires the scanning of the serial number of the iPhone and the part purchased from Apple. That means that replacing a part with one taken from another Apple device still isn't allowed. And while prices for the new store are not yet available, if they are consistent with those on the existing Apple parts marketplace for authorized repairs, then spending more money will be another barrier for would-be iPhone repairers.
The lack of a full shift away from its previous policies makes sense when you consider that this change is coming as pressure on the company from activists and regulators builds in the form of a shareholder resolution that environmental advocates filed in September. An Apple spokesperson says that the development of the program predates that resolution, but he did not clarify whether the timing of the announcement was influenced by that pressure.
This article was originally published on