You Can Now Quickly Unlock Your iPhone While Wearing a Mask
It's a fix for one of the minor annoyances of the COVID-19 era.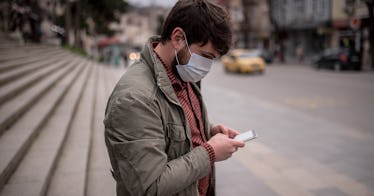 Apple released a new version of its iOS software yesterday, and it's a big update that shows the company adjusting to the realities of the COVID-19 pandemic.
The most notable change applies to newer iOS devices that use Face ID as their unlocking mechanism. Users of such devices have probably noticed that their faces can't unlock their phones while obscured by a CDC-recommended mask. That means they can either irresponsibly take off their masks in public or waste precious seconds waiting for Face ID to fail before they can enter their passcode. It's a choice between risky and annoying, and it's not a great one.
iOS 13.5 solves this problem by adding the option to enter your passcode right away so you don't have to go through the charade of trying to use Face ID when you know it won't work. It's nowhere near the biggest COVID-19 problem, but it's nice that Apple is responding to what's become a consistent annoyance for many of its customers.
The other big piece of the update is support for the exposure notification API developed jointly by Apple and Google. In the future, apps developed by public health agencies can use this technology to send a notification if you've been in contact with someone who tested positive for COVID-19 — or rather, if your phone was near the phone of someone who tested positive for COVID-19.
The Verge has a good piece explaining the software whose efficacy it's way too early to judge. If it's successful, it will function as essentially a widespread, technically enabled version of contact tracing.
iOS 13.5 is now available for iPhones 6S and newer, iPad Air 2 and newer, iPad mini 4 and newer, and the 7th generation iPod Touch.