Apple Creates Mystery Show Based on Real-Life Kid Reporter
Hilde Lysiak, an 11-year-old investigative journalist from New York, is a real-life Nancy Drew.
by Raz Robinson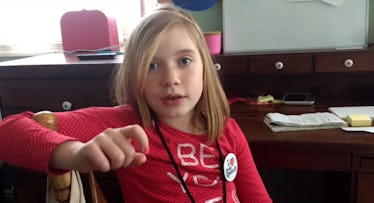 Orange Street News
Hilde Lysiak, an 11-year-old investigative journalist from New York, will serve as the inspiration for a yet-to-be-named mystery series created by Apple for the upcoming debut of their first Netflix-esque video streaming platform. The show will follow a young Brooklyn girl as she leaves the city for a small town where she's the only person ready to unearth a potentially dangerous truth.
It sounds vague, but that's because the project itself is pretty vague right now. We have almost no information about the plot and little is known about the show beyond that fact that the same producers who brought you 13 Reasons Why and Daredevil will be handling the series. While 13 Reasons Why has been the subject of controversy, both it and Daredevil have been huge hits for Netflix.
Journalism is not new to Lysiak ⏤ she's been running down leads since she was eight-years-old. She was even there to break a murder story ahead of the local papers when she was only nine-years-old. She also has no problem standing by her work. When people questioned why exactly they should trust someone so young to report the facts, she gave a brief but grown-up answer.
"I got a good tip from a source, and I was able to confirm it," she said.
And while Lysiak almost certainly has a leg up on other aspiring kid reporters ⏤ her dad was a journalist for the New York Daily Post ⏤ you can't buy her skills or intensity. Plus, she seems pretty fearless when it comes to the whole thing, as her publication Orange Street News breaks stories about drug abuse, break-ins, and even murder.
This article was originally published on