Apparently, Justin Timberlake and Jessica Biel Just Had a Second Baby 
by Isabella Bridie DeLeo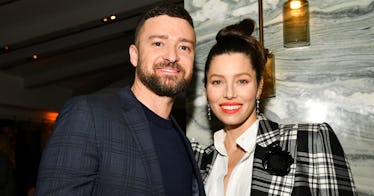 GETTY
Now for some good news: Jessica Biel and husband Justin Timberlake have welcomed a second child to their brood. Biel gave birth to a boy last week after keeping her pregnancy under wraps as the family self-isolates in their Montana home, the DailyMail reports.
To try to maintain their privacy, the clever family hid the pregnancy news from fans, with Biel strategically posting mostly a combination of throwback photos and even this sweet Father's Day tribute on Instagram. The now-even-busier parents have been pretty active making TV and movies lately. Biel recently starred in the Facebook Watch crime series, Limetown, which ended in 2020. And Timberlake starred in the new film in the Trolls franchise, Trolls: World Tour, and the forthcoming drama, Palmer.
But the funny couple makes time to troll each other. At the swanky Casamigo's Tequila party last year, Biel dressed up as Justin Timberlake circa his NSYNC days, donning his then-trademark curls and very '90s colorful sunglasses.
For now, mum's the word on the newborn's name, but maybe someday soon we'll get an adorable photo of the Biel-Timberlake newborn? Celebrity baby news is among the best news we can hope for these days.
Let's just hope their 5-year-old, Silas, is getting along with his new baby brother!
This article was originally published on