This 83-Year-Old Just Became the Oldest Person to Hike the Appalachian Trail
Incredibly, the 2,620-mile hike is far from the longest the "Nimblewood Nomad" has completed.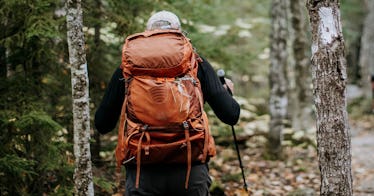 At 83 years old, M.J. "Sunny" Eberhart—better known in the thru-hiking community as the "Nimblewill Nomad"—just became the oldest person to hike the Appalachian Trail. The record-setting trek was the third time—and what he promised would be the "last, last time"—he made the trip.
Making his feat even more impressive was the fact that in addition to the 2,200 miles that make up the Appalachian Trail proper Eberhart also hiked the 348-mile Pinhoti Trail and 72-mile Benton MacKaye Trail on his way to the southern trailhead of the Appalachian Trail, Springer Mountain in Georgia.
Eberhart hiked the trail in sections out of order so that he could get prime weather conditions. Having already completed the northernmost stretches of the trail, which ends at Mount Katadhin in Maine, he finished his final section on Sunday when he arrived in Salton, a town in western Massachusetts. According to NPR, Dale "Greybeard" Sanders, who became the record holder when he hiked the trail at 82, joined Eberhart for the final stretch of the journey that broke his record.
All in all, Eberhart visited 15 states and hiked 2,620 miles, according to his website. Aside from his previous Appalachian excursions, he's also walked 4,400 miles from the Florida Keys to Cap Gaspé in northern Quebec and followed the path of Route 66 from California to Chicago, per Backpacker.
Eberhart began hiking after retiring from his optometry practice in 1993. He's built quite the reputation in the thru-hiking world, fueled in part, he says, by a desire to find peace in the wilderness after a painful divorce. He's written three books about his experiences during his hiking career.
Now that he's set the record, Eberhart plans to return to his home at Flagg Mountain, the southernmost mountain in the Appalachian Mountain Range, where he began his journey on February 5.