Anna Faris and Chris Pratt's Kid-Friendly Divorce Settlement Requires Them to Live Within Five Miles of Each Other
From husband and wife to next-door neighbors.
by Amanda Tarlton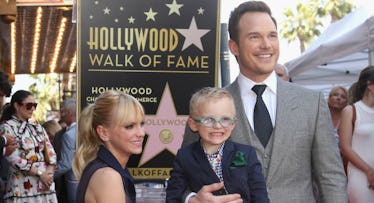 Getty Images
Anna Faris and Chris Pratt wrapped up their divorce Wednesday with the help of a private judge, marking the end of an eight-year marriage. But, with six-year-old son Jack in mind, the couple won't exactly be going their own separate ways. According to a clause in the divorce documents, Faris, 41, and Pratt, 38, must live within five miles of each other for about five years, or until Jack finishes sixth grade.
The clause goes on to state that if either Faris or Pratt plans to move farther away than five miles, they must give the other parent at least three months advance written notice. Additionally, they must give each other at least 30 days notice if they want to travel out of the country with Jack (who they share physical and legal custody of) and "reasonable" notice for any out-of-state trips.
The couple also waived the right to spousal and child support, agreeing to maintain a joint bank account for Jack. Each parent is required to add to the account on a yearly basis.
Since announcing their separation in August 2017, citing "irreconcilable differences," and filing for divorce two months later in December, both the Avengers: Infinity War actor and Overboard actress have spoken publicly about making Jack their number one priority. In an interview with Entertainment Weekly, Pratt explained, "At the end of the day, we've got a great kid who's got two parents who love him very much. And we're finding a way to navigate this while still remaining friends and still being kind to one another."
Faris echoed her now-ex-husband's words when she spoke with US Weekly, saying, "I think it's just the general idea of just making sure that [Jack] is surrounded by a lot of love and happiness and we're really good at that and we have amazing friends and incredible family and we have like just the most amazing resources to make sure that he feels safe and protected and happy and so far he is."
This article was originally published on