An Entire Store Dedicated to Sour Patch Kids Is Coming — Wait Isn't This For Adults?
A whole store dedicated to all things Sour Patch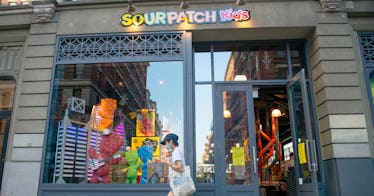 Getty
In bittersweet news, there's a new Sour Patch Kids flagship store in New York City. And we're not sure how to feel about it. The new store, located in SoHo, sort of resembles the sugary sweet and almost frenetic pandemonium of Dylan's Candy Bar and The Sugar Factory, and that makes sense since the Sour Patch Kids store is owned by the retailer ITSUGAR, which also happens to own Dylan's and The Sugar Factory.
Danielle Freid, The Sour Patch Kids Brands Manager, said, "We created this new experience for our fans to engage with the Sour Patch Kids brand on a whole new level." Based on photos from the store, via Miss Domesticated, that appears to be true: there's a Sour Patch figurine dressed as the Statue of Liberty, tons of colorful merch, and even the promise of a few saccharine treats made with Sour Patch Kids ice cream and cotton candy. As expected, there's a lot of Sour Patch. More than you might think could fit in one place. And that's great for Sour Patch Kids lovers, but here's our question: do kids actually like Sour Patch? Isn't this more geared towards adults?
Either way, it's definitely an intriguing move to open a flagship store during the pandemic (although, don't worry, they do require all customers to wear masks). But maybe some people will like the excuse to bask in all things Sour Patch for a few minutes. And hey, if you're not comfortable going to the store in-person, the company also lets fans make a custom candy pack with all your Sour Patch favorites.