Why New Mom Amy Schumer Schedules Sex
"Otherwise, you're just like roommates."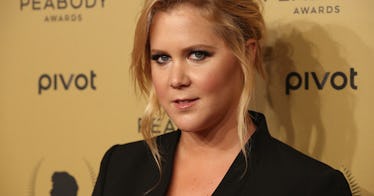 Getty
Amy Schumer is no stranger to over-sharing. After all, just while pregnant, she posted hilarious nude photos and a barfing video. Since giving birth, she's only doubled down on being brutally honest and super real. She's taken down parent shamers and candidly discussed her difficulty breastfeeding. Her schtick has always been hilarity through candid honesty, and as a new mom, there's so much raw material to be brutally honest about.
Like, for instance, the importance of scheduling sex with her husband once her postpartum abstinence ended.
"Well, you know, it's like they say, you can't have sex for like six weeks, you know? And I was hoping it was going to be longer than that because they just like sliced my FUPA open. I'm not like dying to, you know, get pounded from behind. Thank you very much," she joked on the What to Expect podcast, the podcast related to the famous book of the same name and hosted by Heidi Murkoff, who authored the book.
"Once we [had] sex again, it was nice. And we're really good about having sex once a week. We just keep it going because you have to. Otherwise, you're just like roommates, and then it's like weird that you're having sex."
When asked how she made sure she and her husband avoided the dreaded roommate trap, Schumer revealed that they plan out their rendezvous beforehand.
"No, we make a plan. We go like, 'Let's have sex tomorrow or Tuesday. That'll be a good day.' And then we do it and we go, 'That's great. We should do that more,' but we still just do it once a week."
Scheduling sex is a practice touted by relationship experts, sex therapists, and married couples themselves. Busy parents know that sex doesn't have to be spontaneous to be enjoyable — and sometimes, unless time is carved out on the schedule, sex becomes one of those nagging to-do's that never gets tended to. Schumer's openness about the topic is definitely on-brand and funny, but the scheduled sex comment is also helpful to new parents. Many parents struggle when figuring out how to have sex after having kids, and to hear someone known for speaking the truth say what works for her without a hint of shame is very refreshing.