Amy Poehler and Will Arnett Reunited on a Canadian Television Special
They were working together for charity.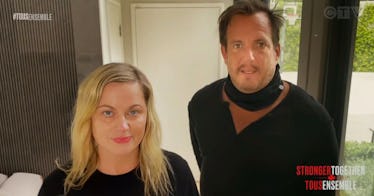 Ex-spouses (and co-parents) Amy Poehler and Will Arnett had a television reunion last night. The pair appeared on "Stronger Together, Tous Ensemble," a Canadian COVID-19 special that paid tribute to the country's essential workers and raised money for food banks dealing with increased demand.
Arnett, a native Torontonian, joked (we hope) that he hadn't taken a shower in about a month. His mussed hair and scruffy beard supported that assertion, but he said "It doesn't really matter."
"Actually, it kind of does, Will," Poehler wryly replied.
For many divorced couples, the idea of voluntarily appearing together on a national television broadcast is mortifying, so Poehler and Arnett deserve props for doing something that was sure to raise eyebrows, particularly if they're sheltering in place together, with their two kids.
Regardless of the circumstances, Poehler and Arnett donned masks and finished their appearance on a more serious note.
"Do whatever you can," they said. "All our love to you, Canada. Stay safe."
The benefit also featured performances from Canadian musicians Ryan Adams, Barenaked Ladies, and others. Ryan Reynolds, Drake, Justin Bieber, Geddy Lee, and Serge Ibaka were among those who, along with Poehler and Arnett, recorded special messages for the audience.
Poehler will return to television on Thursday in a special episode of Parks and Recreation, her much-beloved sitcom that originally went off the air in 2015.
That episode is also serving as a fundraiser for food banks, in this case, Feeding America, a network of more than 200 local food banks in the United States.