The Dramatic Changes to Healthcare in Joe Biden's COVID-19 Relief Package
The stimulus package includes free COBRA coverage, expanded ACA subsidies, and billions and billions in public health funding.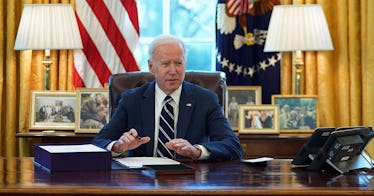 Getty
Amidst the excitement about another round of stimulus payments and monthly payments for parents, disappointment in the exclusion of a minimum wage increase, and relief that unemployment benefits will be extended, the dramatic changes the American Rescue Plan Act makes in the realm of healthcare have gone relatively unnoticed.
But they're big changes for health care access, and affordability, with short- and long-term effects. Here's what you need to know.
Six Months of COBRA Will Be Subsidized
People on employer-provided insurance who lose their jobs (or have their hours reduced to the point of losing insurance) are eligible for coverage under the Consolidated Omnibus Budget Reconciliation Act. In theory, this is a very good thing, but in practice it's often cost-prohibitive, requiring people to pay up to 102 percent (!) of the total premium, making it barely health insurance at all. This new bill has changed that.
Under the COVID-19 stimulus, the ARP will pay 100 percent of COBRA premiums from April 1 through September 30, 2021. It's unfortunately not retroactive if you did sign up for COBRA, but it will give you six months free if you have signed up for COBRA because of pandemic-related job loss. And for people who have or will opt for COBRA after losing their job, it's a big deal. For those who haven't yet signed up for COBRA but are within 18 months of losing their job (i.e. everyone laid off due to COVID-19), the law mandates a 60-day window for them to sign up for the free coverage.
Affordable Care Act Subsidies Will Be Expanded
The ARP includes an expansion of Marketplace Advanced Premium Tax Credits, the subsidies that help people pay for coverage under the Affordable Care Act. Now they will be available to eligible individuals whose income is above 400 percent of the federal poverty line, an improvement over "regular" times.
According to a New York Times analysis, the new subsidies mean that people making $19,000 will be able to get insurance on the federal or state insurance exchanges without a monthly payment. Those making over $51,000 could see their premiums drop by as much as $1,000, depending on where they live.
The changes will be retroactive to January 1, so people who purchased health insurance on an exchange will receive a refund. And unemployed people, regardless of their income, can now pay premiums similar to that of someone making $19,000 a year.
"What this law will do is make it so the majority of uninsured citizens are eligible for free or low-cost coverage," Cynthia Cox of the Kaiser Family Foundation told the Times. "This won't bring us to universal health care, but it will bring us closer to universal eligibility for subsidized health insurance — for two years."
There's the rub. These expanded subsidies will expire in two years, which could be a very rude awakening for those receiving them. Democrats will likely want to extend them and think that the political pain of not doing so will be too much to bear. It's a strategy similar to the one they're trying with the expanded child tax credit, where they begin to offer a great social safety net program that becomes too beloved to take away — and beloved enough to expand on.
More Funding for COVID Public Health Initiatives
There's also lots of funding in this bill directed squarely at continuing to address the pandemic and its consequences.
$7.5 bilion for the CDC to manage the COVID-19 vaccine process
$7.66 billion for state, local, and territorial public health departments
$1.1 billion for various corps of medical professionals on the front lines of the pandemic
$47.8 billion to continue implementation of an evidence-based national COVID-19 testing strategy
$3 billion for block grants to state and local governments to address mental health and substance use disorders, problems exacerbated by the pandemic
$8.5 billion for rural Medicare and Medicaid providers
$500 million for rural healthcare grants
The bill also requires that Medicaid programs and CHIP provide full coverage for treatment or prevention of COVID-19 through one year after the end of the public health emergency.