'American Ninja Warrior' Downgrades Obstacles For New Kids' Competition
The new show for 9- to 14-years-old will feature smaller versions of six iconic obstacles.
by Dave Baldwin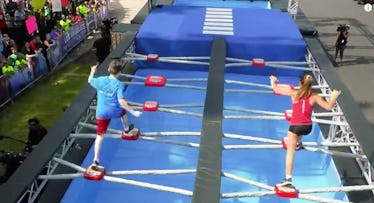 UniversalKids
If you're one of those dads who built "Quintuple Steps" in the backyard so your kid could train for American Ninja Warrior Junior, better get the toolbox back out. The show, which begins airing October 13 at 7p on NBC's Universal Kids Network, recently released a sneak-peek of the Junior obstacle course and announced which six, scaled-down obstacles from the adult version made the cut.
Like the popular NBC competition, American Ninja Warrior Junior is an obstacle course race that tests strength and endurance ⏤ but for ages 9- to 14-years old. It was filmed in July and kids competed against in one of three age brackets: 9-10, 11-12, 13-14. It's hosted by the same two guys, Matt Iseman, and Akbar Gbajabiamila, but they've added Olympic gymnast Laurie Hernandez as a sideline host.
"The obstacles look exactly like the ones on American Ninja Warrior because they are," says executive producer and director Kent Weed. "They're just scaled down just a little bit for the different heights and the different sizes of the kids we're dealing with." There are two courses side-by-side and they start off with Archer Steps (spaced slightly closer together) to a rope before transitioning into the Tic Toc pendulum (with a smaller diameter) and jump to a cargo net. Older kids move on to Devil Steps, while others proceed to the Floating Tiles (there's a bigger tile in the middle), Floating Shelf Grab, and finally on to a 13-foot-tall Warped Wall that has openings at 10-feet and 11.5-feet for the younger competitors.
Watch below to get a full tour of the course before next week's big premiere.
This article was originally published on