A Musical Based on the American Girl Dolls Is in the Works
The details are scant, but it looks like a potential classic in the making.
by Raz Robinson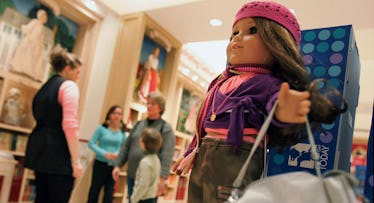 Getty
American Girl Dolls are breaking out of the box. It was announced today that the Mattel-owned franchise of female dolls, which have earned an obsessive following of children and adults, will be joining the likes of Dinosaur Train Live! and Daniel Tiger Live! and star in a forthcoming musical.
Launched in 1986 by the Pleasant Company, who was later bought by Mattel, the line was created to showcase an ethnically diverse line of little girls from different time periods. Each 18-inch vinyl doll came with a number of accessories and her own backstory in the form of a paperback novel that explored her personality. The dolls were wildly popular from the onset and more than 30 million have been sold since manufacturing began.
The newly announced show, per Variety will tour North America this fall. A joint effort between American Girl and Mills entertainment, the company who has produced such shows as Daniel Tiger Live!, the show will have an all-female staff. While it's not known yet who of the girls will be featured on stage (a script is not yet written), but certainly all the favorites — and a whole lot of girl power — will hit the stage.
"We're thrilled to bring a new touring experience to families across the U.S. and offer this unique live-engagement with the brand," Katy Dickson, president of American Girl, said to Variety. "Over the past 30 years, American Girl's beloved characters have become role models — inspiring millions of girls to think about their own character and how they want to make their mark on the world. We know girls and their families and friends will love seeing these incredible stories come to life in an exciting, new stage production that offers an unwavering belief in the positive power of girlhood."
This article was originally published on