'Trolls World Tour' Is Single-Handedly Ripping the Movie Industry Apart
AMC is going to war over 'Trolls.'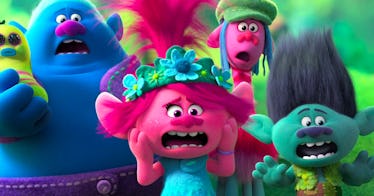 Dreamworks
COVID-19 has made business hard on movie theaters, but that's nothing compared to the havoc inflicted by Trolls. The latest Trolls opus, Trolls World Tour, is threatening to tear about the entire movie industry. No. Really.
Since the Supreme Court forced movie studios to get out of the theater business in 1948, the two factions of the entertainment industry have had a symbiotic relationship. Studios needed theaters to show their films and theaters needed studios to supply them with films. Home video complicated matters, but initial exclusive theatrical releases preserved a delicate equilibrium.
That equilibrium might not survive the pandemic, and Trolls World Tour might be the film most responsible for the disruption.
AMC Theatres CEO Adam Aron sent a letter to Universal chairwoman Donna Langley expressing his discontent with comments made by NBCUniversal head Jeff Shell, reflecting the desperate situation his company is in.
"This radical change by Universal to the business model that currently exists between our two companies represents nothing but downside for us and is categorically unacceptable to AMC Entertainment, the world's largest collection of movie theatres.
"Going forward, AMC will not license any Universal movies in any of our 1,000 theatres globally on these terms."
That means films like F9, Minions: The Rise of Gru, Sing 2, and future Jurassic Park titles will not, as things currently stand, be shown on any of the approximately 11,000 screens AMC controls worldwide, including over 8,000 in the United States.
Aron was responding to comments by NBCUniversal CEO Jeff Shell in the Wall Street Journal. "The results for 'Trolls World Tour' have exceeded our expectations and demonstrated the viability of PVOD," Shell said. "As soon as theaters reopen, we expect to release movies on both formats."
After moving its release date multiple times, in March Universal decided to return Trolls World Tour to its original April 10 release but to also make it available simultaneously on video-on-demand services. By the time April 10 rolled around, the vast majority of theaters were closed, turning the movie into a test case for releasing first-run movies online to rent for $19.99.
It went staggeringly well. The film made nearly $100 million in rental fees, generating more revenue for the studio than the original Trolls did during its five-month theatrical run, spelling potential disaster for movie theaters.
Here was proof positive that movie watchers would pay for the privilege of watching first-run films from home, that the convenience and relatively low cost of streaming movies might outweigh the pleasures of the big screen.
Now, Universal has a choice. It could choose to engage in negotiations with AMC in an effort to define terms that work for both sides, or it could disregard the letter and bet big that the VOD success of Trolls World Tour will translate to the rest of its slate.
In public, Universal has made it clear that it prefers the former course of action. But if this situation shows us anything definitive, it's that the status quo ante was tenuous at best, and the future of the movie theater exhibition model that's endured for 70 years is uncertain at best.
This article was originally published on