Amazon Gets Blasted For Selling Disgusting Pedophile Onesies
Horrified customers are threatening to boycott the retailer.
by Amanda Tarlton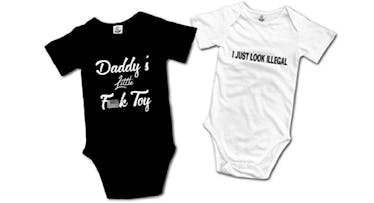 Amazon via The Sun
Amazon is under fire for selling pro-pedophile baby clothing according to a shocking investigation by The Sun Online.
On Amazon's American site, the news outlet found two infant onesies for sale with disgusting slogans. The black onesie read "Daddy's little fuck toy" while the white one read "I just look illegal." Both retailed for about $20 and were sized for babies up to 24 months old.
Similar tops were discovered on Amazon's Canadian site, as well, sold by retailer VanBer who also sells offensive adult T-shirts, The Daily Mail reports. One of those was even emblazoned with "Daddy's little slut."
The items have since been removed but people are rightfully horrified and appalled that they were ever there in the first place, with some even threatening to boycott Amazon altogether.
"It is outrageous that baby clothing with this language appears anywhere on the web let alone Amazon," Marci Hamilton, CEO of Child USA, told The Sun Online. "It is the first time we have seen such wording aimed at pedophiles on clothing for babies."
Hamilton questions how the products even made it online in the first place. "It clearly should have been ringing alarm bells," she said in her interview, adding that Amazon "clearly should have much better controls over products for children generally."
It isn't the first time that the retail giant has dealt with pedophilia-related products. In 2010, Amazon faced backlash for selling a book titled The Pedophile's Guide to Love and Pleasure: a Child-lover's Code of Conduct.
While Amazon eventually pulled the book from its store, it initially defended it by telling TechCrunch, "Amazon.com does not support or promote hatred or criminal acts; we do support the right of every individual to make their own purchasing decisions. Amazon.com believes it is censorship not to sell certain titles because we believe their message is objectionable."
A spokesperson for Amazon commented on removing the offensive onesies, saying, "All marketplace sellers must follow our selling guidelines and those who don't will be subject to action including potential removal of their account. The product in question is no longer available."
This article was originally published on