Celebrate May the Fourth With These Totally Awesome Star Wars Alexa Hacks
"Alexa, teach me a Jedi mind trick."
by Amanda Tarlton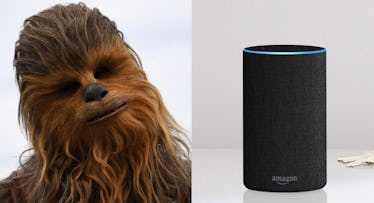 May the Force be with you—or rather, May the Fourth be with you. This weekend marks the day that Star Wars fans look forward to all year, and to celebrate, Amazon has equipped Alexa with a few Luke Skywalker-approved tricks.
You can ask her anything from what the best Star Wars movie is (spoiler alert: she prefers The Empire Strikes Back) to an interesting fact about the franchise ("During filming of the Phantom Menace, Ewan McGregor made lightsaber noises as he dueled, it was noted and corrected during post-production").
Alexa can also tell Star Wars-themed jokes, teach you Jedi mind tricks (which she recommends using to buy pizza), and recite the Jedi Code. But perhaps one of her best new hacks is her impersonation of the legendary Jedi master himself. When asked "Alexa, talk like Yoda," she has the perfect response: "Speak like Yoda I cannot. Master he is, while merely apprentice I am."
If you want to queue up your favorite film from the franchise or binge watch the entire Star Wars series this Saturday, Alexa can help you with that, too. Just give the specific movie title or say "Alexa, find Star Wars movies." All of the movies, including the most recent The Last Jedi and Solo: A Star Wars Story, are available to rent, buy, or stream on Netflix and Amazon.
And Alexa isn't the only one ready for Saturday's Star Wars celebrations. On Thursday, the California Legislature voted to make May 4th officially "Star Wars Day" as the state eagerly awaits the opening of Disneyland's Star Wars: Galaxy's Edge amusement park later this month.
"What started as pun warmly shared by fans has become a full-fledged Star Wars holiday: Star Wars Day, a special once-a-year celebration of the galaxy far, far away," the franchise's website explains.