Alex Trebek Suggests That Betty White Replace Him As the Host of Jeopardy!
Don't worry, he has no plan to retire just yet
by Isabella Bridie DeLeo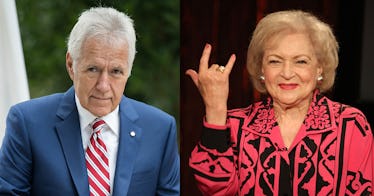 Getty
It's hard to imagine Jeopardy! without Alex Trebek as host. But he's jokingly named a possible successor: his longtime friend, The Golden Girls star Betty White. While Trebek hasn't announced any retirement plans from the show, his suggestion of Betty White was more of a dad joke really. He told Good Morning America, "I joke with the audience all the time and I say, 'Betty White,' because they want somebody younger, somebody funnier." We love a good self-deprecating dad joke and Alex Trebek has certainly earned the right. He just celebrated a milestone birthday, his 80th, on July 22.
Recently, the Jeopardy! host, who's been diagnosed with stage 4 pancreatic cancer, deeply saddened the world when he wrote that if his current treatment didn't work, "he would probably stop treatment." He wrote that in his new memoir, The Answer Is… Reflections On My Life, which was just released on July 21. Thankfully, however, Trebek has since clarified his previous comments and seems more optimistic than he did than when he was writing the memoir. In a Twitter post, he writes, "That quote from the book was written BEFORE my current regimen, and I was going through some bad times. He adds, "My current numbers are very good, but we will have to be patient with this new immunotherapy program that I am on." He also assures folks that if his current treatment doesn't work, he won't stop treatment, but rather, he'd return to the previous treatment.
In a July 16 announcement from the show, Trebek talks a little bit about Jeopardy!'s plans for the near future, while rocking a goatee, ensuring viewers that he's been recording show openings from his home and that the show hopes to return to production soon. Plus, Jeopardy! will be re-releasing older episodes from their "vault" soon. So if you want to see the first episode that Trebek ever hosted, "mustache and all," then tune in?
This article was originally published on