Alex Trebek Just Hosted a New Socially-Distanced 'Jeopardy!' Episode
The 37th (!!) season of 'Jeopardy' started on Monday
by Isabella Bridie DeLeo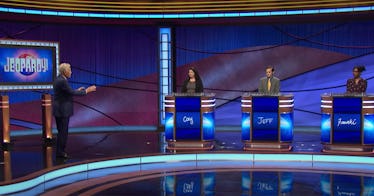 Everyone's favorite game show host, Alex Trebek, led a landmark Jeopardy! episode on Monday night. It was the start of the new season, the game show's 37th, and in keeping with safety precautions due to COVID-19, the guests practiced social distancing, keeping their podiums farther away from each other and from Trebek. In a press release about the episode, Trebek wrote, "I feel good, and I feel excited because once again Jeopardy! has demonstrated that it's at the forefront of television programming." He added, "I believe we are the first quiz show to come back on the air in the COVID-19 era," and also described what the show means to him during the pandemic, saying, "On a personal level, I'm excited because it gets me out of the house. It gives me something to do on a regular basis, and I was missing that," as per People.
The episode featured newcomers Cory, Franki and Jeff. The returning champion, Zach, wasn't able to travel to the studio, but Trebek mentioned that he's expected to join the show in a few weeks. It's great to see one of America's most beloved shows, with the iconic Trebek hosting despite currently undergoing treatment for pancreatic cancer. It's sure to lift countless families' spirits during the pandemic! Maybe catch the next episode of Jeopardy!, which airs weekdays on ABC at 7p.m. ET?
Check out Trebek's introduction from Monday's episode. Somehow, the show feels particularly comforting during the pandemic, bringing a glimmer of routine and normalcy to our TV screens.