After His Daughter Paints His Nails, the Rock Drops Huge News
Kids today know a lot about Dwayne Johnson, but what do they really know about 'The Rock' ?
by Raz Robinson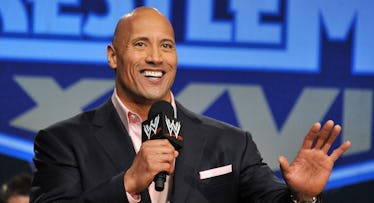 GETTY
A few days ago, Dwayne Johnson posted a pretty wholesome dad-pic of his three-year-old daughter giving him the manicure of a lifetime. While that's cute as hell, it does beg the question: How does one go from wowing an arena full of juiced up WWE fans, to a successful film career, right into being the guy who can regale 116 million Instagram followers with a picture of himself getting manicured by a toddler? You could chalk it up to Johnson possessing enough bicep to fight a small army, or you can read about it in his new tell-all book The World of The Rock.
The book chronicles Johnson's rise from being a no-name third-generation WWE star to being one of the most popular names in Hollywood. Fans will get a real look at how Johnson won his first few Wrestlemania titles as well as how he made the transition into film, and back into wrestling part-time by 2011.
What may be even cooler is the fact that the book is a visual guide, so younger readers won't feel encumbered by pages of laborious text. Hilariously enough, your kid might get a real kick out of seeing one of their favorite movie stars in a such a different light. Think about it, there's a good chance that they love the superhero-looking-man in Jumanji: Welcome to the Jungle yet simultaneously have no idea what The Rock is cooking.
The 160-page title is already available for purchase online or in stores right now for just $24.99