7 Places to Donate to Help Afghan Refugees and Citizens
Here are seven places to donate if you'd like to help Afghan citizens and refugees.
by Fatherly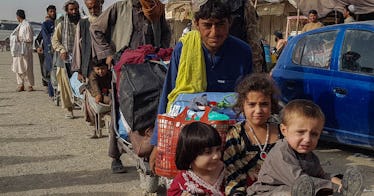 GETTY
There are people on the ground in Afghanistan — children, fathers, working moms, civilians — who desperately need help amid the current crisis. If you're able to assist, here are seven places you can donate in order to help out.
This story is ongoing and this list may be updated.
Miles4Migrants
If you have any extra airline miles, you can donate them to Miles4Migrants, an organization that has spent the last several weeks working with partners to get refugees out of Afghanistan. Though many flights were grounded, leaving thousands of Afghan citizens on the ground at the airport, Miles4Migrants says they are still "firmly committed to assisting our partners in getting Afghan families to safety" and are "ready to fulfill these flight requests as soon as we are able to do so."
In the meantime, donating your miles is still a very helpful way to help people get out of Afghanistan, and even if your donated miles don't go to Afghan citizens, they will go to people in need across the world.
Sanitary Products for Displaced Afghan Women
Those who prefer to give more directly should check out this GoFundMe that gives Afghan women access to period products. In times of crisis, basic needs like sanitary products go overlooked, tragically. Providing girls and women with them helps them stay healthy and live in dignity.
Afghanaid
Afghanaid is a non-profit organization that has operated for four decades. Its mission is to help Afghanistan families in remote communities by setting up basic services, helping build climate resilience, and aiding responses to humanitarian emergencies such like this. Per their website, Afghanaid is "responding with emergency assistance where needed and supporting families who have lost their homes and livelihoods as a result of this conflict."
Lutheran Social Services of the National Capital Area
For aid on a more local level, the Lutheran Social Services of the National Capital Area is working on resettling hundreds of Afghan people who were evacuated out of the country as Kabul fell. They need help getting people from D.C. area airports and finding rooms for the hundreds of folks who will be arriving — hotel gift cars and monetary donations are both a huge help.
The Ethiopian Community Development Council, the International Rescue Committee, and Catholic Charities are all also be working to re-settle Afghan refugees in the Washington, D.C. area, with particular focus on holders of Special Immigrant Visas in the area and could all use money or donations to their Amazon wish lists to help people settle, get counseling, get homes, and places to sleep. These charities are recommended by The Washingtonian.
This article was originally published on