13-Year-Old Brayden Harrington Made Us Cry at the DNC
Brayden talked about how Biden helped him with his stutter.
by Isabella Bridie DeLeo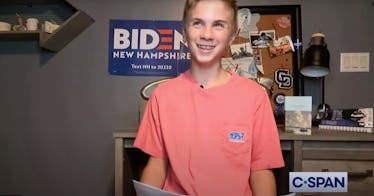 C-SPAN
The final night of the Democratic National Convention was filled with plenty of standout moments, including a moving speech from presidential candidate Joe Biden, Julia Louis-Dreyfus' comedic talents, and one emotional speech from 13-year-old Brayden Harrington that continues to resonate. Harrington talked about how he met Biden a few months ago in New Hampshire, and when he spoke with the now-presidential nominee, Biden told him that they "were members of the same club," since they both stutter. Harrington said, "it was really amazing to hear that someone like me became Vice President."
Biden has been open about his stutter, which he's had since childhood, and it was nice to see how he helped Harrington when they first met and now that he gave Harrington a platform to speak about it. Harrington said that Biden gave him insight and strategies for managing the stutter, saying, "He told me about a book of poems by Yeats he would read out loud to practice. He showed me how he marks his addresses to make them easier to say out loud." Harrington boiled down his point to this: "I'm just a regular kid, and in a short amount of time Joe Biden made me more confident about something that's bothered me my whole life. Joe Biden cared. Imagine what he could do for all of us." Harrington's two-minute speech was very touching indeed, and is likely to reassure and resonate, especially with kids and parents who are dealing with stuttering.
Check out the inspiring speech below.