These Celebrity Dads Won Halloween With Their Amazing Costumes
And the award for Best-Dressed Dad goes to...
by Amanda Tarlton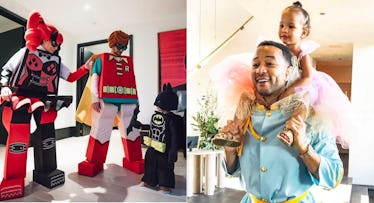 Dressing up for Halloween has become a real family affair, as every year, millions of dads dress up and help their kid get as much candy as humanly possible. Some may hate all the traditions but being a dad means going the extra mile and hopping into that costume, even if you really don't want to. This isn't just true for average joe fathers, as celeb dads are joining in on the fun too with their own costumes—and they're as over-the-top as you can imagine, from the super scary to the hilariously creative.
Here are some of the best looks from super famous dads during this year's fright night festivities (and remember, it's never too early to start planning next year's costume!), including a killer clown, a scaredy cat, and an absolutely incredible tribute to Disneyland's most beloved spooky ride. Which one was your favorite?
JUSTIN TIMBERLAKE AS LEGO ROBIN
We aren't sure what we like more: Justin and wife Jessica's life-sized Lego outfits, or the punny caption that accompanied their Instagram shot. "They got candy? LEGO!"
ALEC BALDWIN AS AN ASTRONAUT
The Baldwin clan's matching NASA jumpsuits were, well, out of this world. Three-year-old Rafael even had his own space helmet to match Dad's.
JAY-Z AS TOMMIE SMITH
Dressed as legendary track star Florence Griffith Joyner (aka "Flo Jo") and track and field Olympian Tommie Smith, Bey and Jay-Z definitely took gold in the costume game this year. The rap artist and dad even raised his fist in remembrance of Smith's famous Black Power Salute during the 1968 Summer Olympics.
CAREY HART AS THE BEARDED LADY
It's no secret that the Hart family loves The Greatest Showman. So while we're not surprised with their choice for this year's family costume, we're definitely impressed with the creativity. Who knew dad Carey could pull off a dress so well?
TOM BRADY AS PENNYWISE
The only thing scarier than facing Tom Brady on the football field is seeing the New England Patriots quarterback as Pennywise, the carnivorous clown from It. Gisele's face says it all!
JOHN LEGEND AS PRINCE CHARMING
Yep, Mr. Legend had, not one, but two amazing costumes this year. The dad kept the royal theme going when he dressed up as his daughter Luna's very own Prince Charming.
THOMAS RHETT AS SULLEY
Two-year-old Willa Gray isn't afraid of monsters—after all, she picked the costumes for the whole family, including dad Thomas Rhett, who said, "We watched so many Disney movies, that we were just like 'Which Disney characters do you want to be?' Willa Gray is obsessed with Monsters, Inc., so Lauren went and bought us all Monsters, Inc. outfits."
MICHAEL STRAHAN AS MR. T
We pity the fool who doesn't love this fantasic costume.
NEIL PATRICK HARRIS AS A HITCHHIKING GHOST
Everyone's favorite Halloween family is back—and spookier than ever—this year as characters from the Haunted Mansion ride at DisneyLand. In the words of Neil Patrick Harris' hubby David Burtka, "Beware of Hitchhiking Ghosts!"
JEFF DUNHAM AS THE COWARDLY LION
They might not be in Kansas anymore, but the Dunham family certainly looks the part, from Jeff's furry lion onesie to their own tiny Toto. As if their costumes weren't enough, the Dunhams even rolled out a real yellow brick road for the occasion.
This article was originally published on