How to Make the Most of a Long, Dark Winter, According to a Minnesota Dad
One native once described to me the best way to survive a Minnesota winter: You gotta step into the punch. We all need to do that this year. Here's how.
by Reid Forgrave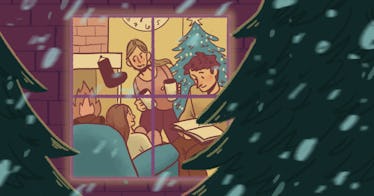 Joy Velasco for Fatherly
I live in Minnesota. In Minnesota, our winters are long, and our winters are cold.
"No kidding," you say."No, you don't understand," I say.It is difficult to grasp what an average Minnesota winter actually feels like until you experience the totality of a full season. In the northern hemisphere, winter officially lasts three months, from December 21 until March 20. Easily survivable. But in Minnesota, we had eight inches of snow on October 20 this year. I scrambled the night before to make sure our snowblower (you gotta have a snowblower) was still in working order. A couple years ago, when my wife and I were on a mid-April beach vacation without the kids, there was a thunder blizzard – a thunder blizzard! – which dumped a foot and a half of snow on the Twin Cities. By my calculations, October until April equals six months of winter.But it's not the snow that makes our winters so tough. It's the bone-chilling cold. In January 2019, a cold snap cancelled school for a week, and it dipped to negative 28 degrees, a temperature I did not know existed outside Antarctica. One recent winter, the Twin Cities temperatures dipped below zero on 53 days, including a streak of 17 days straight. I have gotten used to my nose hairs freezing during the 10-second walk to the recycling bin, and to small icicles forming on my beard after shoveling the front walk.Since I moved to Minnesota, I have not become an expert in eating lutefisk (never tried it), catching walleye (failed every time), canoeing the gorgeous Boundary Waters (too buggy), or executing a proper Minnesota goodbye (this East Coaster still shuffles awkwardly as natives stand at the door and chat for an extra half hour after the initial goodbye).I have, however, become an expert in winter survival.And this year, we in Minnesota – as well as the rest of us north of the Mason-Dixon line – are in for an especially long, especially cold, and especially dark winter, if only because this damn coronavirus is going to keep us away from doing what we usually do.So how does the average Minnesotan survive the average Minnesota winter? Well, we mostly avoid it.We go to the Mall of America, which is a surprisingly great place to waste a day (and a ton of money) with your kids, but which this winter feels like a 5.6-million-square-foot superspreader event. We belly up at places like Matt's Bar and Grill and drink Grain Belt Premium (a delightful bad beer) while eating the Twin Cities' iconic cheese-stuffed burger, the Jucy Lucy. But that ain't happening any time soon.We act like corporate gerbils in the world's largest continuous skyway system, 11 miles of skyway that connects 80 blocks of Minneapolis' downtown, allowing us to go from home to car to parking garage to work and back without even once stepping foot outside. Except these days we're all working from home, and the skyway is pretty much dead.We stand on a frozen lake and hunt for fish, which doesn't sound like avoiding winter until I tell you this can be done in the most winter-avoiding of ways: With (I kid you not) luxury ice-fishing, where you're in a 72-degree ice house on top of a frozen lake, with a mini-kitchen and satellite television.This winter, though, there will simply be no avoiding winter.And I'm dreading it.But for the past few months, I've been preparing for it.There will be dark days ahead of us, no doubt, but our duty as parents is to try and find some joy in it all – not to just hibernate through the coming difficult months but to keep our spirits and our family's spirits up for what promises to be a wonderful, vaccine-filled spring.Let me guide you through my family's winter survival kit, where we repurposed a budget we'd normally use for holiday travel and used it to make this homebound winter a great one (or at least a survivable one):
Lean into the Cold
You can keep your family cooped up binging on board games and art projects. But at some point, you reach your wits' end of hibernation, as well as the end of the Disney Plus catalogue. You gotta get outside. And you have to prepare for how thats going to happen now. I'm debating whether to organize an outdoor winter bags league (you may call it cornhole) with my neighbors. We bought a Solo Stove, which means we'll be able to have regular campfires. Throughout the holiday season, we'll go on night walks in our neighborhood and peep at Christmas lights.
We'll make the most of it. When I need inspiration, I think of former Vikings head coach Bud Grant. In January 2016, the Vikings were hosting a playoff game – a rare Vikings game that was played outdoors, while they waited for a new domed stadium to be built. It was the third-coldest game in NFL history. The wind chill dipped to negative 25. Before the 88-year-old Grant walked out for the game's ceremonial coin flip, he turned to NFL commissioner Roger Goodell and said, "Would you hold my jacket while I go out for the toss and show how we love this weather?" Grant walked out in a short-sleeved golf shirt and a baseball cap.
Make Winter Moments an Event.
We broke the unwritten rule and got our Christmas tree before Thanksgiving this year. My wife is planning to make an obscene amount of holiday cookies and paper snowflakes and Chex mix. We're going to stretch Christmas morning out into Christmas week, a present a day to keep the kids excited. We will capitalize on every snowfall, even if that means blowing off a Tuesday afternoon at work to take the kids sledding. Do what you can to make every winter moment an event.
Exercise. And Exercise With Your Kids.
Look, I know that new Peloton is super-sweet, and your house is super-warm. But sitting in front of a screen for your exercise will get old after a couple of months, and plus, it's not going to burn off any of your kids' energy. I love jogging, but I hate jogging in the cold; the advice I got from a marathoner friend is to dress warm and man up. I bought a pair of YakTrax, which slip over my jogging shoes and have carbide spikes on the sole, so I can keep a grip in icy conditions. So I do that.
There are plenty of other outdoor winter exercise opportunities that are also fun and family friendly. But you have to plan them. That mean thinking about them now. I'd recommend snowshoeing; it sounds fancy, but it's basically just a walk in the snowy woods. Go ice-skating, too. We bought used ice skates for the family, and one cool thing about Minnesota is that schools and city parks flood their fields in the winter and make outdoor rinks. Take your kids to an indoor-outdoor driving range to hit some golf balls; we have a Top Golf in the Twin Cities, and even though it makes for a damn expensive outing, the idea of being outdoors under a heater, hitting some golf balls, will be a priceless experience come February. Just do the planning. Get excited. Try some new stuff. We bought downhill skis for everyone this winter at a tent sale. Our four-year-old and eight-year-old have never skied before, and the last time I skied, I tore my rotator cuff. Let's hope it takes.
Entertain People
We love to have other families over for dinner parties. That's been a huge bummer of our COVID experience, that dinner parties (with the exception of outdoor get-togethers in warmer months) are out. But we don't plan to stop hosting people, as long as health restrictions aren't too restrictive. We just want to do so responsibly. For us, responsibly means inviting over fewer people (likely just one family at a time, depending on what COVID numbers in our community look like), and hanging outside. We open the garage and serve finger food. I bought a propane patio heater in fall, thinking those could become sold out by winter, and we'll gather under it on the colder days and grab a beer or three.
Embrace Hygge.
I still can't pronounce it (I used to pronounce it "hig-uh," my wife corrected me to "hoog-uh," and Google tells me it's actually "hyoo-guh"), but the this Scandinavian concept is key for not just surviving winter but becoming one with the season. Think coziness and comfort: Warm socks, tons of blankets, frequent fires in the fireplace, lots of cuddling time and reading time, warm drinks in the morning (coffee, tea) and warm drinks at night (hot chocolate, Hot Toddies). That's hygge.
Complain – But Complain Together.
Making it through an especially long and brutal winter brings a sense of human bonding, the feeling that we got through this all together. So complaining about the weather isn't just an empty way to fill conversational dead time; it's a way to find a commonality of suffering. So drink a beer or two extra. Wallow a bit. But make sure your neighbors are right alongside you in the wallowing. Even if it's six-plus feet away, or in the next yard over.
Realize There's a Light at the End of This Tunnel.
One reason? There's a vaccine on the horizon. This won't be every winter for the rest of time. Another? Every winter in Minnesota, we go through some version of this. Sure, in regular winters, we get to escape to a sunny locale, or visit an indoor play park, or meet up with another family at a brewery. But the truth is, every winter is tough. One native once described to me the best way to survive a Minnesota winter: You gotta step into the punch. You deal with it, but you realize this hibernation can be an important part of life's emotional cycles.
So relax indoors with your family. Appreciate the little things. Reflect on who you are, and what you want in life, and how the darkest days of this pandemic have changed us all. And then realize that spring will come, and life will blossom all around us, and you will enjoy that first spring day all the more having made it through the longest of winters.