I'm a Divorce Lawyer. This Was the Wildest Divorce I Ever Encountered
A divorce lawyer explains the wildest case she ever had to oversee — and what it can teach everyone about family law.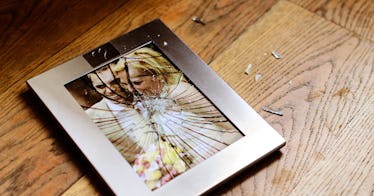 Divorce doesn't always have to be messy. But it often is. And amidst the intense emotions that surround the dissolution of a marriage, things can sometimes go wildly off the rails. Regina A. DeMeo, a family law attorney in Bethesda, MD with more than two decades of experience, knows this all too well. She relayed one of the wildest divorce sagas she ever encountered, and the lessons that it can teach.
I've been practicing family law for more than 20 years in the Washington, D.C. area, and one of the craziest cases I ever encountered involved a lady who alleged that her husband — my client — was emotionally abusive and stalking her online in order to get a protective order, one that ultimately got him kicked out of the house for two weeks. During that time, we filed for divorce while she orchestrated a move out, and took more than 75-percent of what was in the house, leaving it in horrible condition. My client agreed to pay support and stay away from her, and then moved back in.
Almost immediately, she changed her mind about the custody agreement and asked the court to revise it. In her counter-complaint for divorce, she alleged that my client was having an affair — which was not true, and was never proven — and that he had limited her access to money, even taking funds from her account without her knowledge. In discovery, we learned that she was the one who'd been having an affair for a while, and that she had plenty of money from various sources, including the funds she took from her own bank account while claiming her husband had withdrawn them.
My client had to fight to get a shared custody schedule with the children — first at a temporary hearing, then at a full three-day custody trial, where the children had their own attorney advocate for shared custody (as recommended per the custody evaluators), yet mom refused to go along with this.
Less than six months after the custody trial, she filed for contempt against her husband, even though she was the one that was really in contempt. Ultimately, after a full-day hearing on that, her contempt petition was denied and she was ordered to pay her husband more than $12,000 in legal fees. Then we had the property trial, where she wanted lifetime alimony and more than half the marital assets, even though she had squandered a substantial portion of their funds on needless legal fees and insisted on only working part-time.
The judge gave her no sympathy, and denied any alimony and actually let her husband keep more than half the assets because she agreed with us that the wife had dissipated marital funds. In rejecting the attorney's fees request in excess of $300,000, the judge found them to be completely unreasonable. Of course, this woman appealed the final judgments, and ultimately we reached a settlement to avoid further litigation.
This is a perfect example of how one person can take incredibly unreasonable positions, make unfounded allegations, and the other person will have to find the strength to keep fighting for what is fair, and also know when to reach a settlement to avoid endless entanglements.
I think my client really benefited from having a divorce coach to help him deal with the emotional turmoil throughout the process, and he was fortunate to have a good support network of family and friends willing to testify and help as needed.
Ultimately, we will never be able to change someone else's perspective, which shapes their reality (even if everyone else sees it differently). Those that are able to accept that, focus on what is within their control and just move on, are far better off. Sooner or later, the kids will realize who dragged the fight out, and who ended the craziness to minimize their exposure to conflict.
This article was originally published on