Why Your Child's Preschool Teacher Should Have a College Degree
Currently, only 45 percent of early educators who teach children ages 3 to 5 hold a bachelor's degree in early education. That number needs to go up.
by The Conversation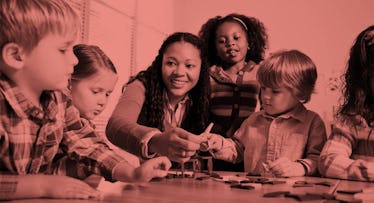 How much education does a preschool teacher need?
When the District of Columbia announced in March that it would require an associate's degree for all lead teachers at child care centers who work with children up to age 5, the reaction was widely negative. Journalist Matthew Yglesias tweeted that the requirement seemed "ill-advised," while Sen. Ben Sasse, a Republican from Nebraska, described it as "insanely stupid."
As the founding executive director of the Institute for Early Education Leadership and Innovation at the University of Massachusetts Boston, I can tell you that there is nothing "ill-advised" or "insanely stupid" about the D.C. requirement. From an educational standpoint, it makes a lot of sense.
The science of brain development shows a clear connection between positive early educational experiences and later success in life. The foundation for literacy, mathematics and science develops rapidly in infancy and continues throughout early childhood. The competencies early educators must have to guide this development effectively, as outlined in a 2015 Institute of Medicine report, are extensive. They include a "sophisticated understanding of the child's cognitive and socio-emotional development [and] knowledge of a broad range of subject-matter content areas."
Young children are natural scientists and innovators who test ideas and evaluate results. It requires skill, experience and knowledge to structure learning experiences and ask questions that guide the development of children's creative problem solving and conceptual thinking.
This article was syndicated from The Conversation. Read the original article by Anne Douglass, Associate Professor of Early Childhood Education and Care, University of Massachusetts Boston
Despite this, currently only 45 percent of early educators who teach children ages 3 to 5 hold a bachelor's degree in early education. An additional 17 percent hold an associate's degree. No state requires early educators to have these degrees. Although 10 require center-based lead teachers to complete a vocational program or earn the Child Development Associate Credential, most just require a high school diploma. Notable exceptions are federally funded Head Start programs and Military Child Care, both of which require lead teachers to have bachelor's degrees.
The need for evidence
I'd contend that these low, inconsistent and uneven requirements are holding the field – and the families it serves – back. The majority of children in the United States under the age of 5 – 61 percent, to be precise – are cared for in child care and preschool settings. Many spend between 40 and 50 hours each week in care. Given this, it would seem ill-advised not to expect the lead teachers for these children to study the science of early learning and bring these quality teaching practices into their classrooms.
Critics rightly point out that there is a lack of conclusive evidence that teachers with college degrees improve educational outcomes for young children. All we have at this point are studies that examine the impact of early education itself, not teachers' credentials, on a child's later performance. Still, nearly every rigorous study of this sort shows a positive correlation between teachers with bachelor's degrees in early education and the most successful early childhood programs. That is, students in such programs tend to do better in school.
The groundbreaking Perry Preschool Project measured whether children living in poverty and at high risk for poor school performance would do better academically if they attended a high-quality preschool. The study tracked participants' progress through age 40. By then, those who had attended the preschool program "had higher earnings, committed fewer crimes; were more likely to hold a job, and were more likely to have graduated from high school than adults who did not have a preschool education." Although the study was not meant to measure the performance of teachers with a degree in early education versus those without one, the Perry researchers noted that the classrooms they studied were all run by teachers with bachelor's degrees. And they concluded that the teachers' "early childhood training was most relevant to their classroom practices."
More recently, an examination of the effects of universal pre-school on Tulsa, Oklahoma, 4-year-olds found that Head Start programs, which require lead teachers to have a degree in early education, result in statistically significant improvements in cognition, language and motor skills. While the study was not designed to measure the importance of a degree in early education among teachers, researchers noted how a "key provision of Oklahoma's universal pre-K program is that all teachers must have a college degree and a certificate in early childhood education."
An analysis of seven major studies on the impact of early education attempted to establish whether a degree in early education made a difference in the quality of instruction. However, this analysis could not do so conclusively. The truth is that there are too many confounding factors to draw conclusions from these studies. None of them, for example, accounted for significant variables that influence early education settings such as teachers' working conditions. Do they have access to adequate teaching materials and facilities? Do they have professional development opportunities and strong leadership? Are they compensated fairly? Or are they working for poverty-level wages that leave them significantly stressed about their ability to support their own family?
Putting the bachelor's degree within reach
While researching for my new book, I found that lead educators who teach young children are eager to advance their knowledge and become more effective instructors. They place as high a value on education as K-12 educators do. They often want greater access to higher education, along with compensation equal to that earned by K-12 teachers. In other words, they are not babysitters and do not want to be treated as such.
UMass Boston – where I teach early childhood education – has a bachelor's degree program in early education designed for teachers already in the workforce. The success of this program can be measured, in part, by its rapid growth. It was grown from just 15 students when it launched in 2009 to 275 students today. Our experience working with hundreds of early educators offers valuable lessons about how to make the bachelor's degree requirement in early education an attainable goal.
The first lesson is we must listen to early educators when they tell us what they need to succeed. This includes things like evening and online coursework, and faculty with deep expertise teaching children from birth to age 5. Second, instruction in brain science and early learning must be delivered so that educators can apply it to their teaching practice. One way to do this is to enable educators to complete their supervised teaching practicum in the early education program where they work. Lastly, educators need more than loans to pay for school. The median salary for early educators is US$28,570, which is just 55 percent of wages earned by kindergarten teachers ($51,640) and 52 percent of elementary school teachers ($54,890). Given this fact, early educators also need scholarships and fair salaries, or else many will find a bachelor's degree financially out of reach.
We should keep in mind that those who teach young children build the foundation upon which K-12 educators do their work. Without this foundation, many children show up at school ill-prepared for even kindergarten. By itself, requiring college degrees of lead teachers who work in early education will not close this learning gap. But it is an important and necessary step to take in order to support and strengthen quality teaching in all of our nation's preschools so that every young child will be given their best opportunity to succeed.
This article was originally published on