8 Women on Why They Slept with Another Man
Real women offer answers that range from not being appreciated to good old-fashioned payback.
by Carrie Weisman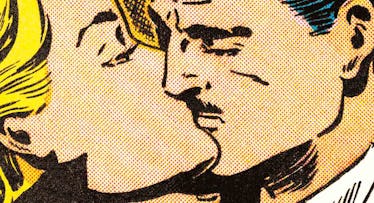 Lots of people get married. And many of those people will eventually risk dismantling said marriages — whether they're unhappy or not — by sliding into bed with someone else. It happens. It is these truths we hold self-evident.
Some might argue the dissemination of "smart" technologies has complicated our ability to cheat and get away with it. Others see things differently. Like, say, Darren Morgenstern who created Ashley Madison, the social network built with the explicit purpose of helping people have affairs, in 2002. To date, the site has attracted more than 50 million members.
Of course, those looking to cheat don't need to hop online to find yourself a fling. Plenty of folks are still doing things the old fashion way. But how people cheat is decidedly less interesting than why they cheat. And the only way to unlock that information is to go directly to the source. Why do women cheat? We spoke to eight women who explained why they decided to cheat on their partners. Answers ranged from not being appreciated to good old-fashioned payback. Here is what they said.
***
1. "I Was Lacking What I Needed Sexually…"
I was lacking what I needed sexually at home. I'd heard about Ashley Madison on a morning TV program, so I decided to give it a try. Once I joined the site and started getting messages, I enjoyed the attention and became hooked. I'm still on the site. I'm still with my husband and I'm still with someone I met on the site after three and half years, and he's still with his wife. If I could go back in time, I'd still do it. — J, 48 years old.
2. "I Found A List of Women."
I cheated on my husband because I found a list of women he had slept with. At the time there was 104 women on there. And about 10 of them were listed after my name. Three were friends of mine. Two were in our wedding. — Anonymous
3. "There's An Unspoken Understanding…"
My partner and I are separated by several thousand miles while we are each pursuing our career goals. There's an unspoken understanding that each of us will be getting our physical needs met elsewhere during this transition. I feel confident that when we are reunited, we can be open about our play with others and can start to develop play as a couple. — Maude, 34 years old
4. "We Were In A Dead Bedroom For Seven Years"
My ex was emotionally, physically, and supportively neglectful. We were in a dead bedroom for seven years and he arbitrarily decided to "retire" at 50 with three kids, 12-and-under at home — the youngest with special needs — and would run, tail tucked, from anything involving emotions. Talking to him about anything was futile. My resentment was at an all time high so I had an exit affair and yes, I would do it again. — Anonymous
5. "I Was In A Sexless Marriage"
I went on Ashley Madison because I was in a completely sexless marriage and needed to experience a physical relationship with a man again. It allowed me to see that I was appealing to other men, and it gave me the confidence and the self-awareness to see that it was time to end my marriage. I'm now in a very loving and strong relationship. I still go on Ashley Madison with my partner's knowledge and consent to have fun with others. Being in an open marriage is a very "strange" concept for many, however we find it works for us very well and allows us to avoid having any secrets from the other. — Monica, 45 years old
6. "I Was Desperately Unhappy in My Marriage"
I was desperately unhappy in my marriage when I ran across an article that talked about the Ashley Madison website. This was a real eye-opener for me. I have always been an extremely sensual and sexual woman and that part of my life was not in evidence in my situation. I'm not interested in getting divorced. I was extremely lucky and met a fabulous man and that has filled the missing parts in both of our lives… Both of us are extremely discreet and careful in our relationship. Neither of us wants to hurt or cause pain to our partners. We have successfully been able to see each other at least once a week for over three years and tremendously enjoy the experience. — Liz, Mid-60s
7. "He Stopped Caring About Me"
He stopped caring about me. Sex was long past history. I needed the touch of a man. It ended in a horrible surprise divorce I didn't see coming. It was 12 years ago. It took me three years to recover. I am with an amazing man now who is my best friend and an awesome lover. He has helped me grow in ways I never thought possible. In the end, I won. — Anonymous
8. "I Found Out He Had Fathered a Child Outside Our Marriage."
I cheated after being cheated on. I found out he had fathered a child outside our marriage. The woman he cheated with dropped the off baby at our house, and left. My entire family was in town for Thanksgiving. I wanted revenge. There are more fish in the sea. I'm now divorced, and happy. — Michelle, 52 years old