Why Every Father Should Join His Neighborhood Dad's Group
I was hesitant. I already have friends. But this community keeps me sane.
by Danny Jacobs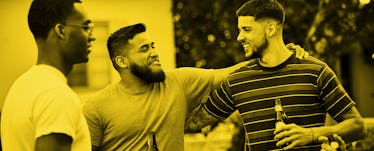 The first day of middle school, I wore a "Central Perk" t-shirt I got after taking the Warner Bros. studio tour in Hollywood. The first day of high school, I wore an orange-and-blue V-neck made of some sort of velour material from Structure. (I might have been wearing corduroy shorts, too, making me a stylish, walking fire hazard.)
I thought about this as I stood in front of the beer fridges at my neighborhood liquor store, trying to decide which six-pack to bring to my first night with the neighborhood dad's group. You're never too old to worry about making a good first impression.
This story was submitted by a Fatherly reader. Opinions expressed in the story do not necessarily reflect the opinions of Fatherly as a publication. The fact that we're printing the story does, however, reflect a belief that it is an interesting and worthwhile read.
When my wife and I bought our house, part of the appeal was the new neighborhood was turning over, with empty-nesters giving way to young families. We had a mutual connection with one of the young families, and the dad asked for my email so I could be included in the dad list serve.
I didn't need any new friends. I have a close group of people that I actively keep in touch with and others from my past who pop in and out, the people whose social media posts might lead me to respond with a text message or phone call.
Most non-family, non-coworker guys I interact with these days have children in school with my kids. Children are natural icebreakers (and glass breakers and ceramic breakers, etc.), and I always enjoy chatting with dads at play dates, even if the conversations inevitably go off the rails.
Me: Hello, fellow dad.
Fellow dad: Greetings.
Me: Did you watch the big sporting event last night?
Fellow dad: AIDAN! That Lego is not food!
Part of me always wonders, as I'm deep into trading stories about baby poop, if the person I'm talking to and I would have been friends in high school or be interacting in any other social scenario if not for our children. But, ultimately I realize the answer doesn't matter. What matters is that being a parent automatically puts you in a clique with other parents, with even the most casual of acquaintances becoming your support group. It takes a Facebook group to raise a child.
Which brings me back to my first night hanging with the neighborhood dads. Here was a group of total strangers that I would be meeting without the crutch of children. At the liquor store, I was debating between light beer and craft beer. I was worried a light beer would be silently frowned upon but a craft beer might seem snobbish.
I decided to split the difference and walked into a neighbor's house with Fat Tire in hand. I had met a few of the dads previously but only exchanged pleasantries. Now there were a dozen of us around a poker table. Whatever nerves or awkwardness I had went away as the cards continued to be dealt. Part of it might have been the fact that each dad brought his own six-pack but even without alcohol, all of the dads were welcoming and are nice guys.
That first poker night led to happy hours and a fantasy football league and happy hours and a March Madness pool and happy hours and disc golf and happy hours. I still can't tell you what some of these guys do for a living and don't know some of their children's names (although I could pick them out of a lineup). But if I need the name of a good mechanic in the area, I'd email the group before going to Google. There's always some dad talk when we get together but it's otherwise regular guy talk with friends, the best of both worlds.
If you're nervous about joining or starting a local dad's meetup, don't be. It's a community of support — and member are always willing to lend a hand.
Which leads me to the best email exchange I was part of all year, one that epitomizes a Dad Group. A dad sent out a missive one Sunday afternoon on the list serve with the subject line, "Looking for an Axe."
"Does anyone have an axe I could borrow?" he asked.
Less than two hours later came a reply.
"You can borrow mine," another dad said. "Let me know when you want to grab it."
No questions, no back-and-forth and I learned someone in my neighborhood owns an axe. It was a total guy conversation and a thing of beauty, like a velour shirt and corduroy shorts.
Danny Jacobs is a writer and editor in Ellicott City, Maryland. He wishes Structure was still around. You can read more of his work here.
This article was originally published on