I'm the White Dad of a Black Son. This Time Is a Wake Up Call For Me.
I'm committed to doing all I can as his dad to help him, so that one day, when he's off on his own as a Black man in America, he'll be as prepared and empowered as we can possibly help him be.
by Adam Roseman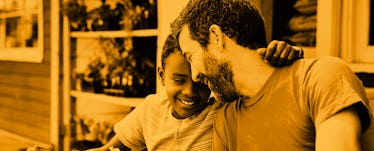 I grew up as a minority in my community — a white boy surrounded mostly by Black families, up until high school. As a child of a single mother who was struggling to get by, I had no sense of privilege. I also had no cognizance of the fact that my skin color did give me a privilege that my friends didn't have.
Throughout my life, most of my closest friends have been Black. But we never had deep discussions about race. It never felt like a necessity, and I felt it wasn't my place to bring it up — even when my wife and I, both of us white, adopted our son, a Black boy from Ethiopia.
Now, that's changed. The protests filling the streets, following videos capturing the killings of innocent Black people by police, have created a wake-up call for me as a father. I have to learn all I can about the difficult realities my friends have faced throughout their lives based on their skin color. Those conversations have begun, and they're eye-opening.
One of my closest friends from college lives in Menlo Park, California, part of Silicon Valley and the home of Facebook. The town has been described as "idyllic." He told me that every time he goes jogging, his wife worries about him making it home safely. It's a constant fear that applies anywhere.
I've also been speaking with friends about their experiences with racism from an early age, from outright racist remarks and actions to microagressions, and how those experiences impacted them.
The most powerful thing a friend has told me so far was, "Right now, your son has white privilege. He has his parents. That goes away when he's 18. It's up to you to prepare him for the real world."
It shows me that as a father, I need to do something that all parents dread: accept that my son, now 10, will grow up more quickly than I want him to, and that I need to address some of life's toughest realities with him earlier than I had hoped.
My wife and I are far from alone in this journey. The Census reports that a quarter of "transracially adopted" children are either Black (15-percent) or "white/black" (10-percent), totaling more than 100,000 kids.
We always knew there are aspects of our son's experience we'd never be able to fully understand. We saw how racist people responded to him starting when he was a baby, when we lived in China because of my work. As we walked around with him in a stroller, we'd get all sorts of looks and stares. Some people would point; others would take pictures as though we were some sort of spectacle. One waitress even picked him up out of his high chair and paraded him around to giggles from other restaurant staff.
After we moved back to the U.S., I began to be surprised at how influential race was starting at such an early age. During second and third grade (when we had relocated from Los Angeles to Atlanta), kids at school seemed to separate into friend groups based largely on skin color. By fourth grade, which he just completed, the separation among kids in our suburb was striking.
Research suggests there are various reasons for this, including, as a Newsweek headline put it, "By third grade, Black students who self segregate are more popular." Meanwhile, the article notes, another part of the problem "stems from white parents' refusal to talk to their young children about race and ethnicity. This inadvertently teaches children that race is a taboo topic." The sense that race shouldn't be discussed could push kids to avoid having lots of friendships in which the topic may come up.
While I maintained my "transracial" friendships growing up, I clearly also internalized the idea that talking about race was taboo. To do right by my son, I need to unlearn that idea, be unafraid to open up about everything I learn, and encourage him to open up about his thoughts and experiences.
We also have a 7-year-old biological daughter. While we're homebound during COVID-19, she plays video games every morning with friends and acquaintances. Recently, she changed her username to Black Lives Matter. She talks about race and the protests constantly.
But our son largely stays silent about these issues. It's a time of great confusion and even fear for him. We're engaged now in the delicate balancing act of helping him feel comfortable talking about all these issues without pressuring him to say or feel anything.
Throughout this, I'm more grateful than ever for my friends, who are taking time out of their busy lives to guide me and to have conversations with all of us as a family. I don't pretend to have any easy answers. And of course I'm frightened for him, for what he'll face in the future. But I'm committed to doing all I can as his dad to help him — so that one day, when he's off on his own as a Black man in America, he'll be as prepared and empowered as we can possibly help him be.
Adam Roseman is co-founder and CEO of Steady.
This article was originally published on